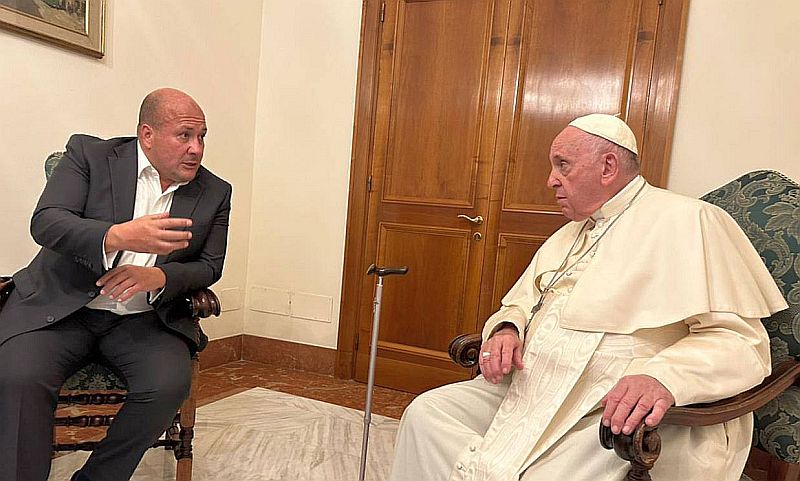 Guadalajara, Jalisco, Mexico – As part of his work tour in Europe, Jalisco Governor Enrique Alfaro visited with Pope Francis at his personal residence in Santa Marta, Rome, Italy, where they discussed the agenda of activities that the Mexican State will carry out with the Scholas Occurrentes Foundation.
Enrique Alfaro was the first Mexican governor that the Supreme Pontiff has ever invited into his home, where they spent 25 minutes talking about the culture of peace, and how it will be promoted in Jalisco in coordination with the Scholas Foundation for the benefit of present and future generations.
The objective of strengthening the culture of peace, added Alfaro Ramírez, is to contribute to a social coexistence based on values and activities that foster collective respect, as well as a reconstruction of the social fabric.
"It was a very exciting moment because to get to this place, you go beyond where the official visits are; this is where the Pope lives and it is a great honor that he received us there; and to give you an idea [of how special it is to be invited there], this is where Saint Peter lies, the governor said.
"We are leaving Rome after the most impressive experience of my life because I was able to talk for almost 25 minutes, an extraordinary experience because I met not only the Pope, but the man who has an idea about life, very solid principles, a great vision of what is happening in the world, and the truth is that he is a man of impressive humility. In many ways his mere presence makes you understand the meaning of his work. We talked about what we are going to do with the foundation and how we are going to close ranks in this fight to build peace," Alfaro continued.
The Governor said he was honored and happy about the approach he had with the most influential religious leader in the world and announced that the pontiff sent a special blessing to the people of Jalisco that will be transmitted in the coming days.
"There could not have been a better closing of the work tour in Rome than that. I felt very moved and the most important thing of all is that His Holiness sent a special blessing to the people of Jalisco, and we are going to show it to them very soon," commented the Governor.
With this activity, the Governor concluded his working tour of Spain and Italy, where he achieved significant economic, educational, tourist, cultural and artistic benefits for Jalisco.
Gobierno del Estado de Jalisco press release translated and edited by BanderasNews.com.