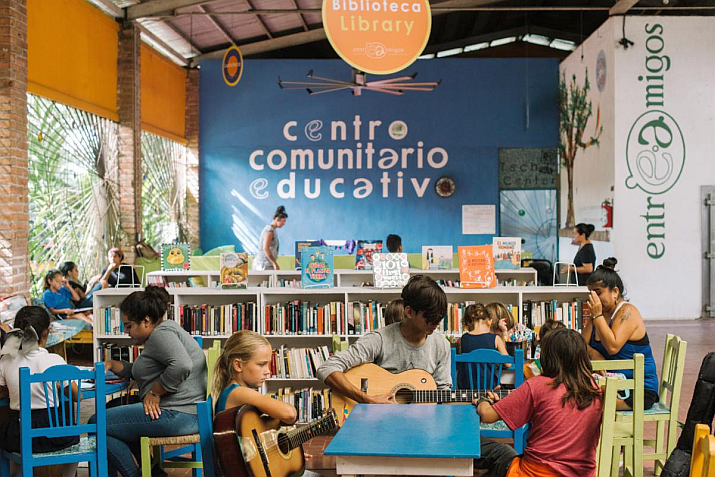 San Pancho, Nayarit, Mexico – Entreamigos began in 2006 on a kitchen table in the middle of a San Pancho street. Today, housed in a giant warehouse recognized as a model sustainable facility, it is an active community center with classes and workshops, a scholarship program, a bilingual library for children and adults, a computer center, an extensive recycling program, a gift store and the Recicla thrift shop.
Here's the latest news from Entreamigos: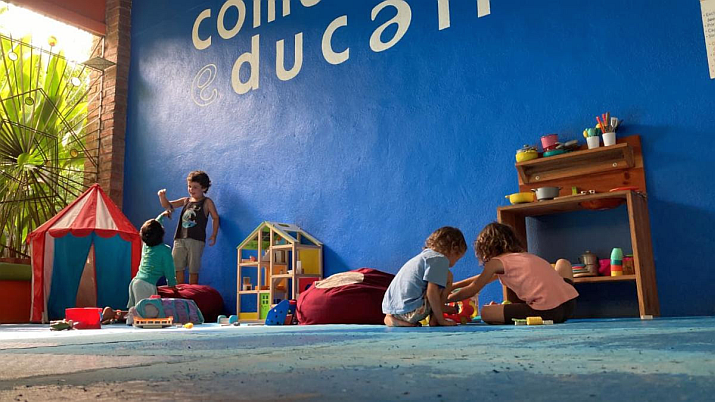 Entreamigos is back in full swing, open weekdays from 11:00 am to 6:00 pm!
We are beyond grateful for the volunteers who step up and help get Entreamigos ready to open its doors – Blake Joffe, Cécile Garcìa, Jessica Waslen, David Wallace, María and Greg and Jesica Koper. From painting and cleaning, to dusting off and shelving books, to organizing and maintenance of the playground… these volunteers were nothing short of amazing.
We are super excited to welcome you back into the building to enjoy the library and the children's play areas. The gallery is also open, stocked up with items from our in house Eco Design Center. Come say hi!
Additionally, the Eco Design Center is ready to take your orders for custom glasses or screen printed t-shirts. We also rent out decorations, glasses, flower pots, etc for your next local event.
Come in on Tuesday, Wednesday, or Thursday from 9 am-1 pm to talk with Frieda in person, or send her message on Whatsapp at: +52 331-632-5565.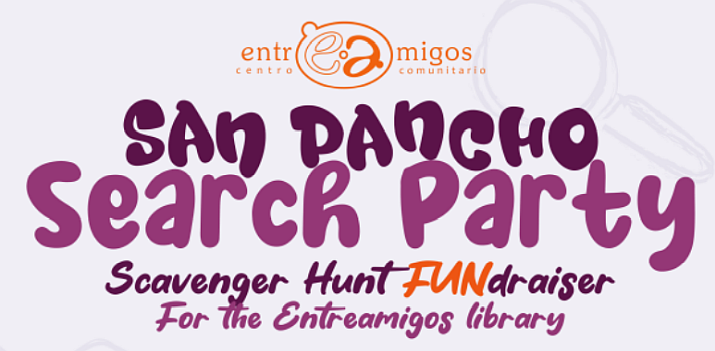 EA Fall Library Fundraiser
On Saturday, November 12, Entreamigos is holding their fall library fundraising event in the form of a super fun scavenger hunt and BBQ. Fundraising teams have been busy collecting donations to support the library and all of its amazing programming. This fundraiser ensures our community continues to have access to over 10,000 books, after-school classes, a computer lab with high speed internet, English lessons, work and play spaces with games, puzzles and more!
Of course the Entreamigos staff and scholarship students did not want to miss the opportunity to form a team, so the EA Estrellas is the official Entreamigos staff and scholarship team. If you want to support our town's library and haven't had the opportunity to sponsor a team, now is your chance!
Every donation helps us get one step closer to keeping these invaluable services available free of charge to our community. Click HERE to donate.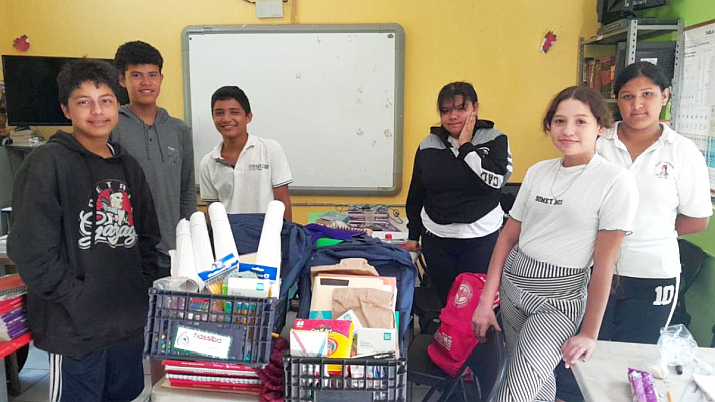 School Supply Give Away
We are thrilled to have been able to give away 15 boxes of school supplies to the local schools in San Pancho and Las Lomas. THANK YOU to those who donated in order to make this happen. The school supplies ensured local students got off to a great start of this academic year!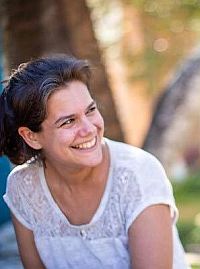 Director of EA Job Opening
After 15 years of working together with our community, Entreamigos has come to a new challenge – the search for a new executive director.
Sarah, our current Executive Director is leaving her role after this coming season. We will miss her dearly and appreciate all the amazing work she has done for Entreamigos.
A search committee is taking the next steps to ensure that this transition to new leadership is as smooth as possible. If you, or anyone you know, might be interested in taking on this dynamic opportunity, click HERE for the job description and HERE to fill out the application.
Support Entreamigos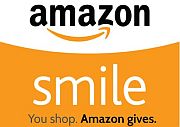 If you would like support this important work, you can make a secure donation via credit card or PayPal, by clicking HERE.
You can also go to smile.amazon.com and enter Entreamigos as your beneficiary organization. Entreamigos receives .5% of the price of your purchase at no additional cost to you! Easy way to help!
Thank you for making a difference in the lives of the children and families of San Pancho!

Located at Av. Tercer Mundo No. 12 in San Francisco, Nayarit, Mexico, Entreamigos is an active community center whose primary focus is to increase educational opportunities for the children of San Pancho. To achieve these goals Entreamigos runs an art collective non-profit store, a library, a computer center and a collection of educational and community based workshops and initiatives. Entreamigos is entirely funded by donations and almost completely run by volunteers. To learn more about our programs and activities please visit entreamigos.org.mx.