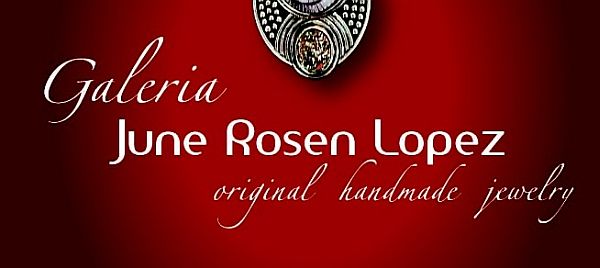 If you are looking for a special piece of jewelry that is uniquely your own, look no further than Galería June Rosen Lopez in Puerto Vallarta, Mexico. This quaint little jewelry gallery is located in June's home in the city's Romantic Zone, and when you walk in you immediately feel welcome.
Specializing in custom made jewelry pieces to last for lifetimes, June has been creating one-of-a-kind jewelry since 1973. She studied her art both in New York City and in Taxco, Guerrero, Mexico's silver capital, and is well versed in a variety of styles – from traditional to contemporary.
June's world travels are reflected in her unique designs, often inspired from the beautiful gems that she collects along the way and the aesthetic of the places that she visits. All this adds up to a collection of jewelry known for its unsurpassed craftsmanship, delightful originality, and reasonable prices. Though her collections have gone through many changes since she first started making jewelry in 1973, one thing remains a constant – June believes in classic jewelry that is affordable, wearable, and never goes out of style.
So, whether you are looking for an exceptional piece of jewelry that won't be seen all over town, or an unique gift from Mexico, Galería June Rosen Lopez should be a must on your list of places to visit when shopping in Puerto Vallarta.
During the season (December through April) the June Rosen Lopez jewelry gallery is usually open from 12 to 6 pm. It is always recommended to call and set an appointment before dropping in, particularly if you are coming from Nuevo Vallarta and want to combine a visit to June's home with a night out on the town in PV. You can reach June in Vallarta at (322) 222-5049 or 044-322-779-6491, by calling her U.S. Vonage line at (646) 291-6852 or via email at junesjewel74(at)hotmail.com.Galeria June Rosen Lopez is located at Francisca Rodriguez #200 on the South side of Puerto Vallarta, Mexico. From the Los Muertos Beach Pier, go one block up, cross Olas Altas, pass Café San Angel and continue up the hill until you reach the corners of Francisca Rodriquez and Pino Suarez, where June's charming gallery is located – in her lovely home on the corner.