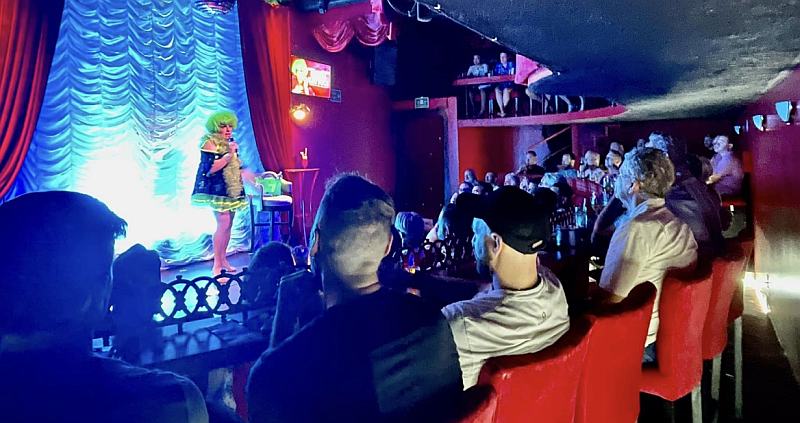 Puerto Vallarta, Mexico – Back for her 8th season at ACT2PV's Red Room, Hedda Lettuce (a.k.a. Steven Polito) has the reputation of being outrageously funny, and her shows always turn out to be a roller coaster ride of laughs and crazy surprises! This season, she delivers her new show, Hedda Lettuce's Chick With A Shtick every Tues at 9:30 pm and Thursday at 8 pm.
Hedda delivers great spoofy songs, with altered lyrics that send her audience into fits of laughter. She specializes in streaming impromptu comedy that plays off the audience. Hedda is an incredible entertainer who keeps the laughter rolling throughout the show.
A six-time Drag Queen of the Year Award-winner, this dazzling, legendary "Green Goddess" of drag, entertains with wild stories, witty comebacks, audience banter and some pretty fine singing. Hedda Lettuce proves why she is a Puerto Vallarta favorite each time she takes the stage.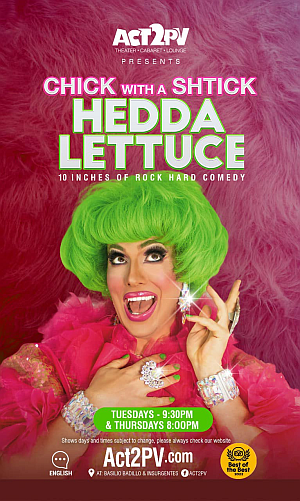 Hedda has appeared on HBO, Comedy Central and MTV. She's also been featured in films, commercials and in off-Broadway projects. She's performed with stars like Sarah Jessica Parker, Tyra Banks, Vanessa Williams and Madonna and appeared on such television shows as Project Runway and Sex and the City. Michael Musto, American Journalist and writer for out.com, has crowned Hedda, "The undisputed grand dame of the drag comedy set."
Hedda opened her 9:30 pm show last Tuesday with "I Still Get Paid," laughingly reminding us that there are no refunds. Let me assure you, we all got more than our money's worth with an amazing night of song, laughter and improv. The audience soon realized how incredibly lovable, funny, and endearing Hedda Lettuce really is! She's adopted into her stage character a parody of a slightly aloof, somewhat neurotic, NYC lady, which only adds to her adorable 'Diva' persona.
Hedda Lettuce had us in stitches as she went on a wild, funny improv rant with the audience about retirement, and how jealous she was of those who had a plan. Hedda always interacts with members of the audience throughout her shows, which endears her to the crowd. Her hilarious remarks and quick comebacks remind us of her true genius as an entertainer.
Hedda's song parodies are always hysterical and we enjoyed "Tonight, I'm Gonna Toss Your Salad," from the Queen of Green. She sang the "Drag Queen Blues" and then cracked us all up with her Tips for Newbies in Vallarta. She also sang another funny song based on the Dolly Parton quote: "It costs a lot to look this good." We loved her parody of "Dancing Queen" and her crazy "Church of Hedda Lettuce" shtick was so silly and fun that we didn't even mind that she fleeced the audience for a couple of pesos. We were all in on the joke! Hedda aced her Loretta Lynn song parody and closed with some goofy advice for giving up alcohol in the form of a song parody, "You Can't Drink With a __ in Your Mouth."
If I can be serious for a moment, I highly recommend Hedda Lettuce's Chick with A Shtick. Hedda is absolutely brilliant as a performer/singer/comedian. I always go see her shows whenever I'm in town and I've loved every one of them. Not only is she one of the best at improv, audience banter and clever comebacks, Hedda Lettuce is a phenomenal singer! Don't miss the "Queen of Green," Hedda Lettuce in her new show this season at Act2PV's Red Room every Tuesday at 9:30 pm and Thursday at 8 pm.
Hedda will draw you in with her wonderful stories and beautiful singing and slay you with her comedy! You will always leave Hedda's show loving that quirky, charming 'Queen of Green.'
Tickets are available at act2pv.com. Act2PV now accepts Visa, Mastercard, American Express, Discover and Paypal for payments online and at the box office.

The Act2PV Entertainment complex is located on the corner of Insurgentes and Basilio Badillo on the South side of Puerto Vallarta. For more information, call (322) 222-1512, or follow Act II on Facebook. Click HERE to learn more about Act2PV.