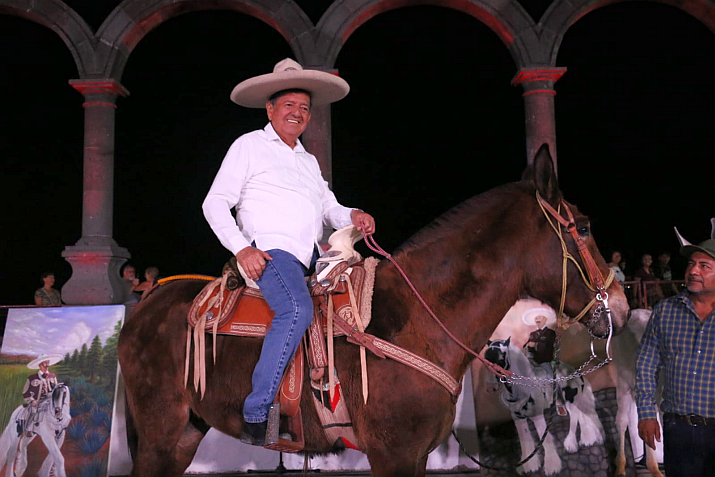 Puerto Vallarta, Jalisco, Mexico – Puerto Vallarta Mayor Professor Luis Alberto Michel Rodríguez (Profe Michel) on Monday inaugurated the 2023 International Equestrian Show, which is taking place at Arena Vallarta February 9-12, with a ribbon-cutting ceremony on the Malecón.
This important event, that exalts one of the most emblematic traditions of the country – Charrería – boasts an extensive program of equestrian, artistic, cultural, sports and social activities, which, in addition to a significant economic benefit, will be a great promotion for this tourist destination.
"Puerto Vallarta is not only the sea and beaches, with mountains and its beautiful bay, but also a city with many traditions such as Charrería, so this festival will be a strong tourist boost for this beach vacation destination," said Profe Michel.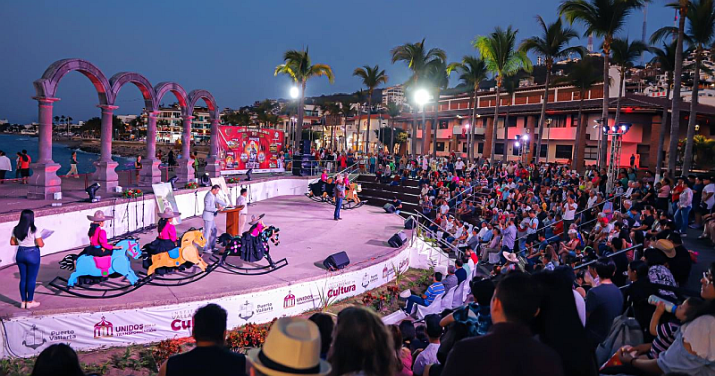 Accompanied by his wife María de Jesús López Delgado, president of the DIF System; Mirtha Iliana Villalvazo Amaya, the municipal president of Bahía de Banderas; councillors, officials, military authorities and organizers, with the opening ribbon cut, Profe Michel invited Puerto Vallarta residents and visitors to enjoy this festival that is taking place at Arena Vallarta.
The director of the Instituto Vallartense de Cultural, Luis Escoto Martínez, highlighted that this event is an expression of Mexican culture, since Charrería is an important element of identity and cultural heritage; the national sport par excellence in which those who dedicate themselves to this activity coexist.
For his part, Sergio Martín Castellanos, organizer of the festival, disclosed the details of the event whose competitions begin on Thursday, February 9 with the participation of more than a thousand horses; and whose main attraction is the Dancing Horse Championship on Sunday, February 12th.
On Thursday, there will be the national piales corveros competition and, for the first time in Puerto Vallarta, the Domecq Horses show, for which tickets will be given away for children and adults. On Friday, there will be more than 80 barrel competitors (cowgirls) and the jaripeo championship with 35 bulls from Michoacán, Nayarit, Guerrero, Jalisco, Durango, who will compete for a purse of 250 thousand pesos.
In addition, free shoeing clinics will be offered for rural people and equine therapy for children with disabilities, for which the organizer promised to give away two horses to continue with these clinics through the Municipal DIF. There will also be natural dressage and horse taming clinics, among other activities.
A Maleconeada with 100 horses and charros is scheduled; a parade of more than 500 horses; a donkey and mule competition; the presentation of the singer of the Mexican regional genre Francisco "El Gallo" Elizalde on Saturday the 11th; a "Dwarf Bullfighters" show, free for children, with raffles for bicycles; and finally the Championship of Dancing Horses on Sunday the 12th.
Located in El Colorado, just 20 minutes from the Puerto Vallarta International Airport, Arena Vallarta is handicap accessible ultra-modern facility that boasts seating for 8 thousand spectators, public rest rooms, a 600 car parking lot, a commercial area, and stables for the horses. Click HERE for Google map.