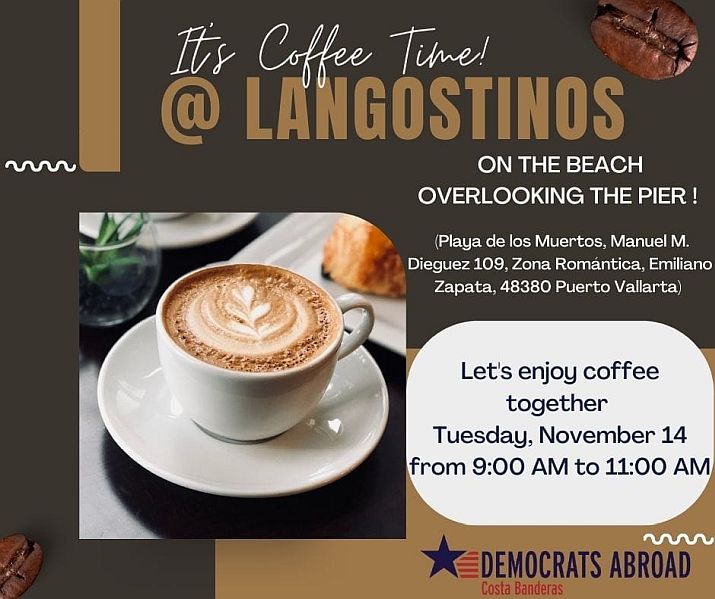 Puerto Vallarta, Mexico – Join Democrats Abroad Costa Banderas for a perfect morning at Langostinos, the iconic palapa restaurant nestled by the pier on Playa de los Muertos. On Tuesday, November 14 from 9:00-11:00 am, we invite you to savor your morning coffee while soaking in the breathtaking beach views.
Cooler weather is upon us and we are excited to get together with you!
As the year draws to a close and our friends and neighbors return to Puerto Vallarta, it's time to venture out, see old friends, make new ones, and learn what Democrats Abroad Costa Banderas is all about while enjoying Langostinos' perfect location on the beach.
Langostinos is a full service beach restaurant that also offers toes-in-the-sand seating. You can enjoy lively conversation while sipping your favorite coffee, juice or smoothie!
To ensure we have enough space for everyone, please RSVP and let us know if you can make it. We can't wait to see you there!
Langostinos is located at Playa de los Muertos, Manuel M. Dieguez 109, Zona Romántica, Emiliano Zapata, 48380 Puerto Vallarta. (Click HERE for a Google map.)

With country committees and local chapters in over 80 countries around the world, Democrats Abroad is the official Democratic Party organization for the millions of Americans living outside the United States. For more information about the Costa Banderas Chapter of Democrats Abroad, click HERE or contact Chapter-Chair Glenda Bland at DAMexico-GBland(at)democratsabroad.org.