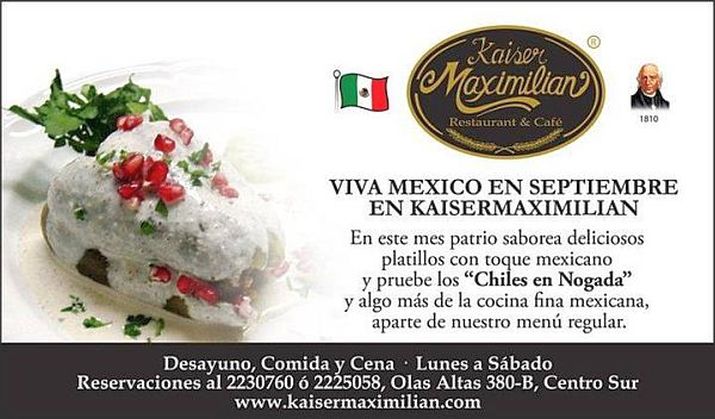 Puerto Vallarta, Mexico – Food is always an important part of Mexican celebrations so, to commemorate Las Fiestas Patrias, in addition to their regular menu, Kaiser Maximilian is serving up a special menu featuring traditional Mexican dishes with an elegant and modern spin, throughout the patriotic month of September.
Don't miss their special Chile en Nogada, the Mexican dish that is most emblematic of the holiday. A specialty of Puebla, Chiles en Nogada are not your everyday chiles rellenos. Made from red, white and green ingredients to symbolize the colors of the Mexican flag, they are roasted chiles poblanos stuffed with a sweet-savory pork and fruit picadillo filling and served at room temperature with a delicate fresh walnut cream sauce topped with pomegranate seeds. They also offer a vegetarian version.
Other specialties on Kaiser Maximilian's ¡Viva México! menu include:
Appetizers
• Tacos with Duck Confit, mole, red onion
• Chili poblano cream soup with corn and cheese
Main Courses
• Red Snapper Filet with noodles, peas, and hibiscus sauce
• Steak Filet with bacon, tamalito with cheeses, chili and papaya sauce
Dessert
• Cottage Cheese stuffed crepe with caramel sauce, tequila and vanilla ice cream
Celebrate Mexico's Independence with friends and family at Kaiser Maximilian, where all of the dishes are expertly prepared with quality ingredients and graciously served in an European bistro atmosphere.
Kaiser Maximilian's ¡Viva México! Menu is being served at the Espresso Bar from 12:00 noon until 11:00 pm and in the Main Dining Room from 5:00 to 11:00 pm through October 8th. The regular a la carte menu is also available. Reservations are recommended.

Open Monday-Saturday from 8 am to 11 pm for breakfast, lunch and dinner, Kaiser Maximilian Restaurant & Cafe is located at Olas Altas #38B in the Zona Romántica of Puerto Vallarta. For reservations call (322) 223-0760 or visit KaiserMaximilian.com