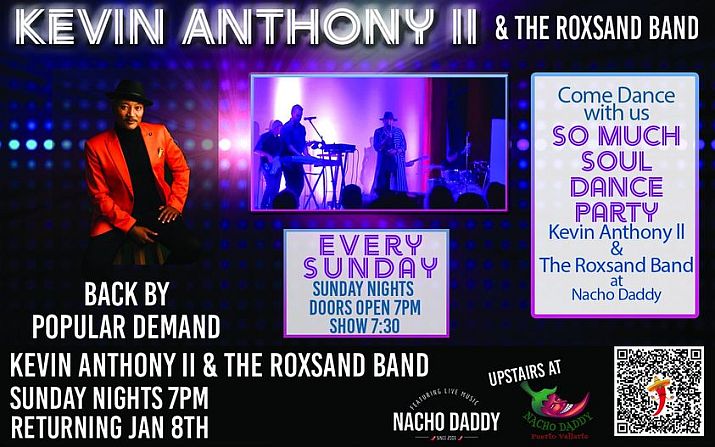 May 5 Update: By popular demand, Kevin Anthony & The Roxsand Band return to Nacho Daddy on the last Sunday of every month during 'low season'. They will be playing at 7:00 pm.
Puerto Vallarta, Mexico – Broadway star and White House honoree, Kevin Anthony II, is bringing his hit show, 'So Much Soul Dance Party,' to Nacho Daddy on Sunday nights at 7:30 pm starting November 27. Kevin and his Roxsand Band put the capital 'S' in Soul, so come out and dance to the classics of our lifetimes… both old and new.
Incorporating rhythm and blues and gospel music with "punch-you-in-the-gut" emotions, Kevin will entertain you with songs from Soul's greatest artists, including Otis Redding, Al Green, Elton John, James Brown, Madonna, Shania Twain and many more, that will make you want to get up and dance!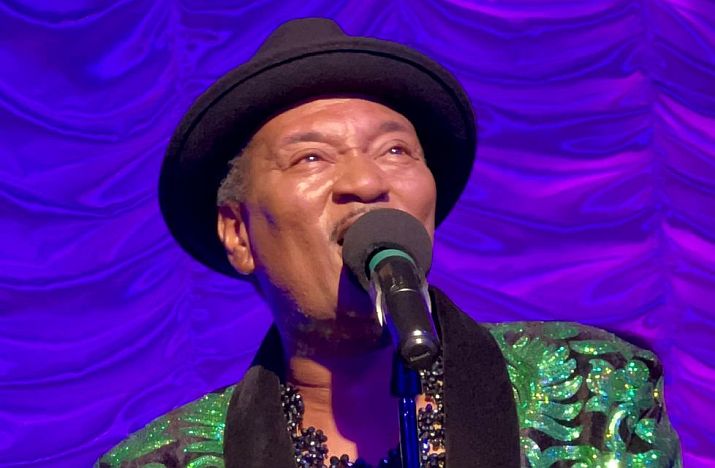 Kevin Anthony is an accomplished, extremely talented, singer who has been a guest entertainer on Carnival Cruise Lines and on stages around the world. With over 40 years in the entertainment industry, Kevin-Anthony brings a breadth of experience both as a performer and producer. As a performer, his vocal abilities and charismatic performance style have thrilled audiences in 28 countries. His Broadway and National Tour credits include Miss Saigon, Grease, Dreamgirls, and Saturday Night Fever.
He was a featured performer at the White House for President Clinton and Senator Hillary Rodham Clinton. For his leading roles in Broadway productions, he has been favorably reviewed by some of the most prominent newspapers across America including USA Today, The New York Times and The Washington Post, among others.
Kevin now has become part of the Puerto Vallarta and Nuevo Vallarta community of artists, having spent 3 years at Vidanta and, for the past 2 years, headlining his own shows at various venues around Banderas Bay, including Act2PV, The Palm, Incanto and Catrina Cantina.
And, now, he will be playing at Nacho Daddy. Come out and dance, sing, laugh and of course drink a little with Kevin (he prefers Grey Goose!) at the 'So Much Soul Dance Party' every Sunday night through December 18. Doors open at 7:00 pm, show starts at 7:30 pm. Tickets are available for $400 pesos at Nacho Daddy, or for $432.44 Pesos online at eventbrite.com.

Open daily from 11 am to 12 am for lunch, dinner, live music and lots of fun, this popular south side hangout is located at Basilio Badillo #287, only two blocks off the beach in the heart of the Romantic Zone. Credit cards accepted. For more information, visit NachoDaddy.mx or become a fan on their Facebook Page for promotions, daily specials and more.
Click HERE to learn more about Nacho Daddy Mexico Restaurant & Sports Bar.