Got Talent or Know Someone Who Does?
Auditions starting for the next PV Star!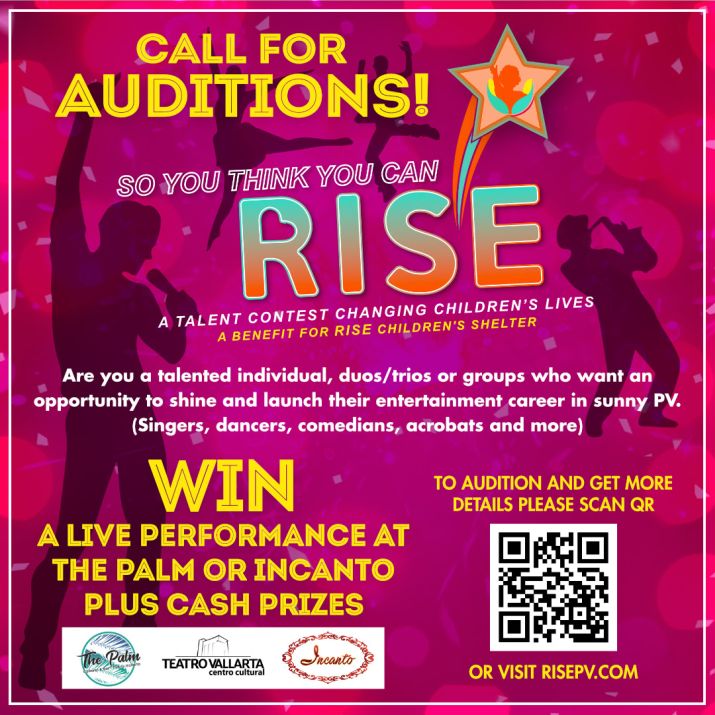 40 Fabulous Performers/Contestants
6 Fascinating Battle Rounds
1 Final Spectacular Variety Show
2 Future PV Entertainers
Three Audition Dates
Sundays – Nov 14, 21 and 28
6 Preliminary Contests at Incanto Vallarta and The Palm Theaters
Sundays – Jan 9, 16, 23, 30, Feb 6 & 13
One Variety Talent Contest – Finale Show
Sunday February 20th at Teatro Vallarta!
Click HERE to register for an audition.
RISE is celebrating 20 years of providing a loving and caring home to hundreds of children who needed shelter, so we thought it was a great time to update our logo. Muchas Gracias to Iris Ayala for creating our new look!

The Refugio Infantil Santa Esperanza is a non-profit shelter for babies and children under the age of 14. Some of these children are orphans but most come from unbearable situations having been abused, neglected, or simply abandoned. R.I.S.E. is a 501(c)3 charitable organization, EIN (52)2442583. All contributions are tax deductible. More information about the shelter and how you can help can be found at their website: RisePV.com.