Indulge yourself while you improve your mood. This sweet apple hazelnut tart is simple to make and ideal for a gluten-free dessert. Hazelnuts are rich in healthy fats and support brain function. Apples, along with the pectin, is an ideal food for easy digestion.
The best part is its quick and easy to make and is a great use for apples that may have become a touch soft.
Ingredients
1 cup hazelnuts (reserve 6 nuts)
2 eggs (duck or chicken)
¼ cup almond flour or rice flour
2 apples
½ tbs. pure fruit spread (raspberry,
strawberry, or blueberry)
¼ cup of water
Directions
• Grind hazelnuts into a fine flour and combine with the almond or rice flour in a bowl.
• Add two eggs and mix until moist.
• Place parchment paper inside a 9-inch pie plate and spread crust mixture inside the pan.
• Bake for 3–5 minutes or until slightly cooked.
• Slice the apples into thin wedges and place them in the baking dish, working from the edge to the center in a circular design.
• Add the water to the fruit spread to make a syrup.
• Pour and spread the syrup over the apples.
• Crush and sprinkle the remaining nuts over the tart and bake at 350°F for 20 minutes.
You can find this and more recipes for improving your mood, reducing anxiety, and being more focused in my book, Eat Right, Feel Right.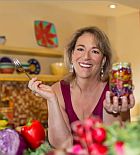 Leslie Korn has lived and worked in Banderas Bay since 1973 conducting research in Traditional Medicine of Mexico. She is a Harvard Medical School and Harvard School of Public Health-educated clinician in clinical practice in Mental Health Nutrition, Integrative Medicine and the prevention of dementia and cognitive decline. She is the author of 8 books, including 'Natural Woman: Herbal Remedies for Radiant Health at Every Age and Stage of Life.' To learn more about her work, visit DrLeslieKorn.com. She can be reached at lekorn(at)cwis.org.


Click HERE to read more articles by Leslie Korn.