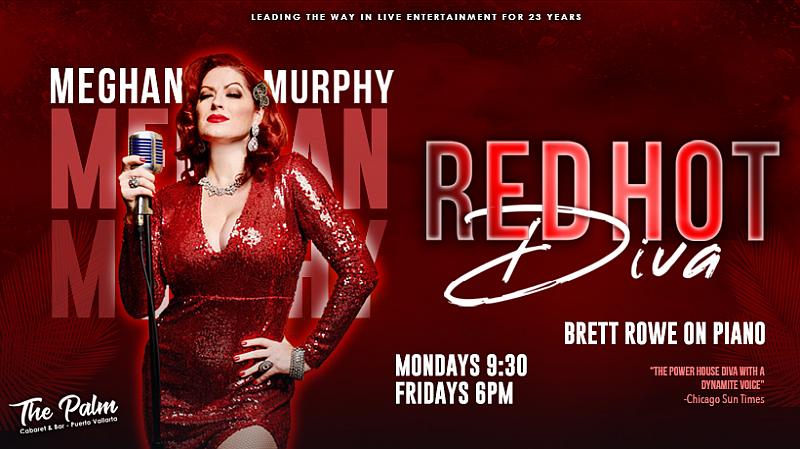 Puerto Vallarta, Jalisco, Mexico – Meghan Murphy returned to The Palm Cabaret with her new show Meghan Murphy-Red Hot Diva this past Monday at 9:30 pm. She'll be headlining Red Hot Diva, accompanied by the fabulous Brett Rowe on piano, every Monday at 9:30 pm and Fridays at 6:00 pm.
Affectionately known as "Big Red," Meghan took the entertainment scene by storm last season and audiences are thrilled to welcome her back! Meghan's brand new solo show is a tribute to her favorite Divas – Judy, Liza, Barbara, Bette, Tina and more. Her performance also includes 2 very hot, male dancers!
Meghan jazzed up the audience with 'red hot' themed songs, like Fever and This Girl's on Fire, as she began her fabulous new show. "The powerhouse diva with a dynamite voice" (Chicago Sun-Times) sang an impressive range of songs, from pop parodies to jazz, from Broadway to Beyonce.
Through her dynamic storytelling and old Hollywood Charm, she thrilled and delighted us with her vocal prowess and razor-sharp sense of humor. Meghan calls herself "an old broad with a new twist" and a "GayCon" (a take-off on the word Icon). One thing for sure, she is an Absolutely Incredible Performer! She got a Big Voice, creates Big Laughs and is a Big Star!
Meghan reminds me of many of the female music legends that we have all come to adore. She can belt out those tunes, like the best of them and move you emotionally with her heartfelt interpretations of songs that are part of our musical memories.
She has earned the title of "Diva" for her brassy, spunky delivery, her warm, gentle, reflective side, and her gorgeous, womanly attributes that attract her audience. She has universal appeal, which includes a huge Gay following along with many fans who just love those classic Diva-delivered songs! And, from the sound of the applause last Monday and the standing ovation, this show is off to a roaring success!
Meghan Murphy-Red Hot Diva is the complete entertainment experience, delivered by a show biz pro, who looks, feels, sings and performs like a beloved Diva. My prediction is that this gal will have a long and illustrious performing career in Puerto Vallarta. She is the package and she will deliver the goods for you! Meghan's new show is one of the best new entertainment experiences in Vallarta this season. You can't go wrong, with this "classy broad."
Don't miss Meghan Murphy in Red Hot Diva on Mondays at 9:30 pm & Fridays at 6 pm at the premiere venue that launched Puerto Vallarta cabaret over 2 decades ago. You'll go wild for "Big Red" and are sure to fall in love with her new performance!
"Statuesque in her stilettos, Big Red is a Towering Inferno of talent." -Broadway World
"Sexy, Sultry & Spellbinding." -Broadway World
"She's a pied piper in red sequins, leading the way for the people, the fans, and the newcomers to the tribe." -Broadway World
"This woman is doing what she was born to do." – Broadway World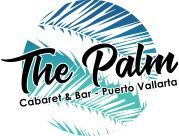 The Palm Cabaret and Bar is located at 508 Olas Altas in the heart of the Puerto Vallarta Romantic Zone. Tickets can be purchased at the venue's box office, which opens daily at 11:00 am, or online at ThePalmCabaret.com.
For more information call 322-222-0200, visit their website, or follow The Palm Cabaret and Bar PVR on Facebook.