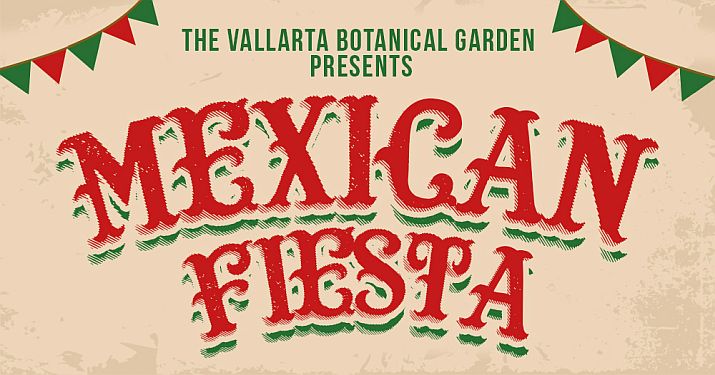 Puerto Vallarta, Mexico – Mexican culture, customs, music, food, and fun await you at the Vallarta Botanical Garden on Sunday, May 8 from 9 am to 5 pm. The VBG's Mexican Fiesta is more than just a celebration; it is a vigorous declaration of community spirit at its best. Come in traditional Mexican dress for your chance to win an Individual Annual Membership to the Garden.
Mexican Fiesta at Vallarta Botanical Garden
Sunday, May 8, 2022 from 9:00 am to 5:00 pm
9:00 am
Welcome – Mexican reception
10:00 am – 12:00 pm
Breakfast available at the Hacienda de Oro Restaurant
12:00 pm – 5:00 pm
Lunch "El Mero Sabor Ranchero" in the restaurant
12:30 pm
Live Regional Mexican Music, Mariachi
2:00 pm
Best Regional Mexican Costume Contest (Free category)
1st Place: 1 Individual Annual Membership
General admission to the Garden is $200 MXN per person for non-members. Members enter for FREE. Costume contest participants do not pay admission.
Visit the internationally famous Vallarta Botanical Garden located just 30 minutes south of Old Town at Km. 24 on Highway 200 and easily accessible by public transportation and taxi. This 74 acre wildlife preserve and botanical garden have something fun for everyone. Over 200 species of birds have been observed on the Garden's grounds. Don't forget to bring your swimsuit for a refreshing dip in the jungle river. See plantings of vanilla, chocolate, and hundreds of other botanical delights! Authentic Mexican Cuisine is served in the Hacienda de Oro Restaurant from 10 am to 5 pm. The Garden is open daily from 9 am to 6 pm (closed Mondays from April 1 to December 1). Garden admission is just $200 pesos. For more information, call (322) 223-6182 or visit vbgardens.org.