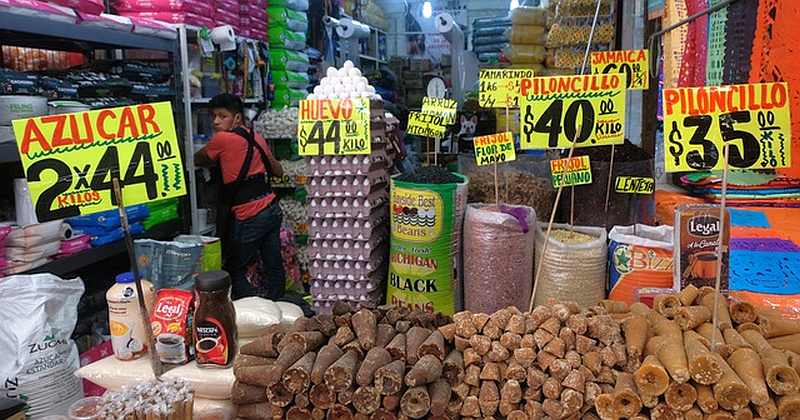 Mexico City – The Mexican government will extend anti-inflation measures for another year, adding new products to the list of items temporarily exempt from tariffs in an attempt to control rising prices.
In a statement, the Economy Ministry explained that the Package Against Inflation and Shortages (PACIC) and the Opening Agreement Against Inflation and Shortages (Apecic) would be combined into one instrument and extended until Dec. 31, 2023. The measures, which were introduced in May and October, respectively, aim to achieve an 8% reduction in the price of key products by temporarily exempting them from import tariffs.
The Ministry announced a list of 33 further products that would be added to the program, including foodstuffs such as turkey, sausages, garlic and spinach, cereals and condiments; prepared soups and pet food; household disinfectants and personal hygiene products; animal feed and agricultural products.
The Economy Ministry said that while prices remain high, the PACIC and Apecic economic plans were successful in keeping the cost of everyday items below target levels.
"Despite the implementation of the PACIC in May 2022, prices maintained a growth trend," they said in a statement on Twitter. "On the implementation of Apecic in October 2022, in agreement with the 15 companies involved in the pact, prices began to show a slight decrease. The commitment to keep the prices of the basic basket below 1,039 pesos [approx. $55 USD] has been fulfilled."
The basic basket approved by the Federal Consumer Attorney's Office contains 24 products: corn oil, rice, tuna, pork, chicken and beef, as well as onion, jalapeño pepper, beans, eggs, bath soap, tomato, milk, lemon, apple, orange, packaged bread, potato, pasta for soup, sardines, carrots, corn and wheat flour, white corn, sorghum and wheat.
President Andrés Manuel López Obrador has defended the program as a way to ease the harsh impact of price increases on poor communities, with inflation reaching its highest level in more than two decades last year.
Sources: La Jornada • El Economista