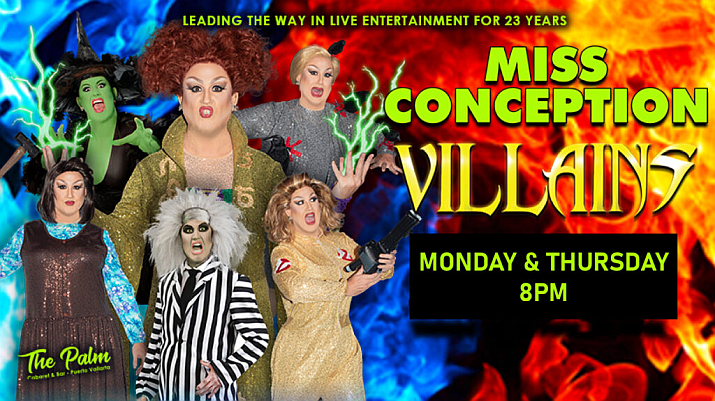 March 29, 2023 Update: Miss Conception's Villains 2 is a roaring success with audiences this season. I caught the show this past Monday night and it was so much fun! Once again, Miss Conception had a full house and she didn't disappoint. Gorgeous videos complemented each new character that she showcased with zany song parodies and the most detailed and incredible costumes. We absolutely loved her jokes and off-the-cuff humor. With comedy parodies from Hocus Pocus, Cruella, Ghostbusters, Captain Hook, Beetlejuice, Misery and The Birds, it was a non-stop laugh fest filled with creativity, spontaneity, humor and razzle dazzle! You can't go wrong with Miss Conception! Vallarta has fallen in love with this Queen and let me assure you, the love affair continues! Get your tickets early because Miss Conception is one popular gal! See her on Mondays and Thursdays at 8 pm at The Palm Cabaret.
Puerto Vallarta, Jalisco, Mexico – Kevin Leveque created his lovable, energetic character, Miss Conception, over 20 years ago and has been selling out shows around the world with 'live singing' shows ever since!
The creativity that goes into each of Miss Conception's shows is always impressive. The costumes, the original themes, the parodies, the singing, the drama, and the side-splitting comedy are the perfect recipe for a spectacular entertainment experience.
This season, Miss C presents Villains 2.0, a one-of-a-kind extravaganza with 12 costume changes right before your eyes. With characters from deliciously, villainous movies such as Jurassic Park, Cruella, Hocus Pocus, Ghostbusters, Wicked Witch, Misery and so many more, Villains 2.0 is sure to be another smash hit from one of Vallarta's most beloved Queens.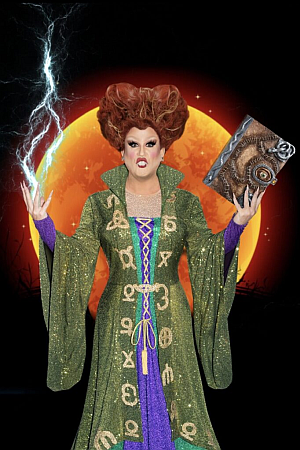 Villains 2.0 happens every Monday and Thursday at 8 pm at The Palm Cabaret starting January 5th. Celebrating 11 years in Mexico, Miss Conception is one of the top entertainers to see each year.
Miss Conception delivers every time with her original shows featuring instant-costume-changes, exciting choreography, fabulous vocals and non-stop fun! Just ask her audience, who return again and again to see the adorable, quirky and exuberant Miss Conception.
Season after season, Vallarta audiences absolutely love Miss Conception's original shows. With contagious laughter and spell-bound attention, you just know that Miss Conception has once again hit that 'sweet spot' with the audience.
So, if you are looking for some of the very best entertainment in Puerto Vallarta, go to The Palm and see 'Miss Conception's Villains 2.0. Her live singing show continues to keep audiences howling with laughter and leaping to their feet with applause. The creativity, originality, live vocals, dancing, costumes and incredible humor all add up to a fantastic performance!
Villains 2.0 is dedicated to Kevin's late Mother, Trisha. It was her favorite show from Miss Conception's incredible repertoire.
Villains 2.0 is rated PG 10
REVIEW by G.W. Mercure (Aug 25, 2022)
From the sequined, fabulous, dark, loud, joyful, defiant Main Street of those margins rises Miss Conception, at Pilgrim House. Miss Conception, whose performance on a recent evening was one of the most reckless, who-cares, forget-all-the-shit-outside, fun times this reviewer has ever had, probably doesn't care much for reviews, except that a good one – which this very much is – will help her perform for more people (although she did just fine when I was there).
How did I find the show? How would I judge her concept? The parade of cultish movie villains (Cruella Deville, Annie Wilkes from Misery, Michael Keaton's undead Beetlejuice, the Stay Puft Marshmallow Man from Ghostbusters, and others I won't spoil) was dynamic, eagerly received, and seemed to emphasize that drag shows don't care about most of the structures within which stuffy writers create staid reviews.
Her vocal range didn't disappoint; her dancing made me want to dance, and her wit, by turns scripted and spontaneous, was relatable and just damn funny. Her takes on cultural touchstones were tone-perfect. Miss Conception connected with her audience almost immediately and without reservation. Miss Conception was charming, human, and rebellious. Miss Conception made her audience feel like there was a joke that not everyone was in on, but we were.
This is one diva that's taking the world by storm. Nobody sells out shows in Puerto Vallarta like Miss Conception does every single season, so don't delay, get your tickets TODAY!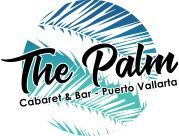 The Palm Cabaret and Bar is located at 508 Olas Altas in the heart of the Puerto Vallarta Romantic Zone. Tickets can be purchased at the venue's box office, which opens daily at 11:00 am, or online at ThePalmCabaret.com.
For more information call 322-222-0200, visit their website, or follow The Palm Cabaret and Bar PVR on Facebook.