Monolingualism Can Be Cured
a profile of columnist Domenico Maceri
While not a Puerto Vallarta resident, Domenico Maceri is a professor of Romance languages at Allan Hancock College in Santa Maria California, who's understanding of languages and cultures has made him one of our readers' favorite columnists.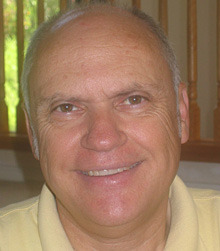 Domenico Maceri was born in Italy where he received his early training in languages. When he was fifteen, he moved with his family to the US, knowing only a few words of English.


After graduating from Cliffside Park High School in New Jersey, he continued his studies in languages and literatures at Jersey City State College in New Jersey. At Jersey City State College he completed a BA in French with minors in Italian and Spanish.


He later completed a master's degree at UCLA where he also taught Italian. He did more graduate studies in Spanish and French at California State University in Northridge, and later completed a PhD in Comparative Literature (Italian, French, and Spanish) at the University of California in Santa Barbara.


He is the author of a book on Pirandello, one on Spanish grammar, and another on Italian grammar. He has also published a number of articles which appeared in World Literature Today, Italian Quarterly, Hispania, Teacher Magazine, Mosaic, Italian Journal, The Los Angeles Times, Hispanic Magazine, The Chicago Tribune, L'Unità, Vista Magazine, The Washington Times, La Opinión, The Japan Times, Language Magazine, and elsewhere.


His Italian-language column is published by Opinione delle Libertà (Rome) and often appears in other Italian newspapers in the US and Canada. He is professor of Romance languages at Allan Hancock College, in Santa Maria, CA. He teaches classes onsite and online. He is the only college instructor in California to teach both first and second year Italian courses online.


Domenico lives in San Luis Obispo, CA, with his wife Linda and their two kids Angelo and Lucia. He drives a Toyota Tercel with a bumper sticker that says "Monolingualism Can Be Cured."