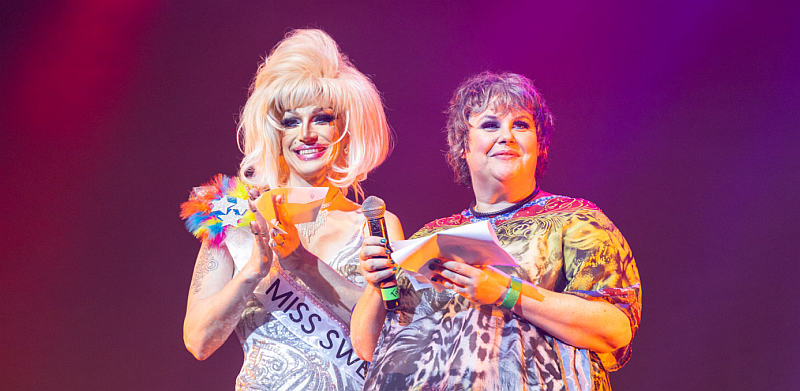 Puerto Vallarta, Mexico – We are fortunate to have so many quality entertainment options around Banderas Bay. From drag, burlesque, dancing, and singing, there truly is something for everyone to enjoy. But one thing continues to be a challenge… the ticketing systems used by the various venues have yet to catch up to the quality of the entertainment.
Well, that has changed since US-based ticketing company Event Sprout came to town and combined the best of local ticketing capabilities to upgrade the ticketing for Puerto Vallarta's most-anticipated annual show/fundraiser – What a Drag!
In 2022 long-time Vallarta resident, Patrick Harrison, returned to the Bay after nearly nine years in Seattle. During Patrick's nearly 30 years promoting Broadway Touring shows and live events across North America, he has sold over 5 million tickets.
After attending the 2022 production of What a Drag, he approached Event Leader Freda Thompson to see if he could help, and a partnership was born. Patrick brought in Event Sprout who created a personalized ticketing system for the event.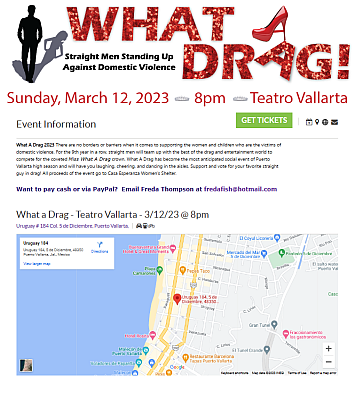 Purchasing tickets is easy, with an easy-to-read and color-coded seating map, a helpful progress bar that shows you where you are in the process, with clear instructions to finalize your tickets. Once purchased, patrons receive an email with the tickets and complete instructions on how to use their tickets.
"This new system has been an answer to prayer for the event and for me personally," says Freda Thompson. "In the past, I had to personally seat people, create the tickets, and do the accounting. This new system does this and so much more, allowing me to focus my time on sponsors and the event."
If you haven't grabbed your seats for this year's What a Drag, set to take place at 8:00 pm on Sunday, March 12 at Teatro Vallarta, you may not want to wait much longer. Tickets are nearly 50% sold-out. This popular event, where straight men team-up with the best of the drag and entertainment worlds to compete for the coveted Miss What a Drag crown, raises funds for the Casa Esperanza Women's Shelter.
Their mission is to support women and their children who are victims of extreme gender violence, to live a life free of brutality by providing them with a secure shelter and all the tools that they need for a safe and secure future.
The shelter provides those in need with clothing, food, and medical care. The team includes psychologists, social workers, lawyers, teachers, and nurses, all working intensively with each family, in a safe and secure environment, so they can live a life free of violence far away from their aggressor.
The work of the shelter is made possible because of the generous sponsors, audience, and Puerto Vallarta community that comes together every year to make What a Drag the success that it is. 100% of all donations go directly to Casa Esperanza. What a Drag is produced by an all-volunteer team who fund many of the event costs themselves.
To grab your tickets to this hilarious event, all while supporting a worthy cause, visit eventsprout.com. Tickets will not be sold at the theater box office, so get yours TODAY!
About The Casa Esperanza Women's Shelter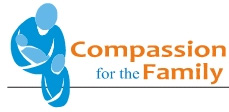 Operated by Compassion for the Family Inc, a US 501c3 charitable organization, the Casa Esperanza Women's Shelter provides beaten, emotionally abused and broken women and their children with a warm caring place to live, food, emotional counseling, nursing care, child care, child counseling, job training, life training and, most of all, a second chance at life – free of violence. When each of these women and their children are ready to embark on their new lives, they are provided with a minimum of six-month follow-up support. For more information, please visit CompassionForTheFamily.com, or contact David Zude at compassionforthefamily(at)yahoo.com.mx.