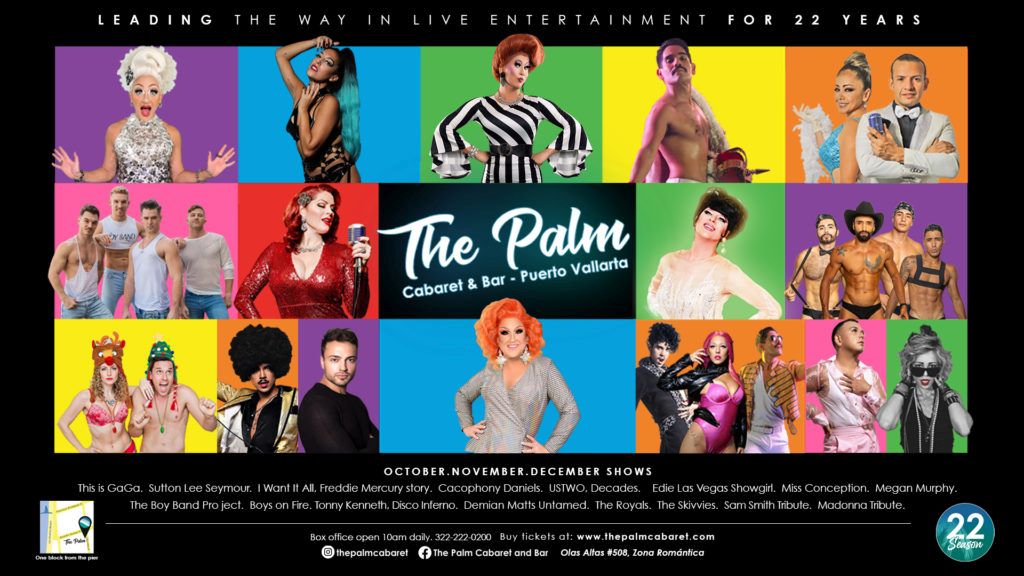 Puerto Vallarta, Mexico – The Palm Cabaret and Bar is celebrating its 22nd year of shows in the Zona Romantic and the season is proving to be a spectacular one!
In October, The Palm presented popular shows from last Spring along with some wonderful new acts. There's been a lot of enthusiasm and praise from audiences about all these exciting choices. November's performances will feature some hit shows from last Spring, the return of your favorite artists and thrilling new acts.
Roy Gomez Cruz takes his audience on an energetic, visual and emotional journey through the songs and life events of the legendary Freddie Mercury in the popular show, I Want It All. This show brings you as close as you'll ever be to this amazing rock icon on Friday nights at 9:30 pm as well as 11/2 & 11/9 at 7 pm and 11/16 at 8 pm.
The Palm features the Smash Hit show, This is Gaga on Wednesdays & Saturdays at 9:30 pm. This show was the-talk-of-the-town last Spring and returns with newly added material. Maru once again shares her amazing musical tribute to the legendary Lady Gaga through spectacular songs, choreography, costumes, video and dance.
On Sundays, you can enjoy Us Two in their new show, Decades at 7 pm and Boys on Fire, a Male Burlesque Cabaret at 9 pm.
Us Two offers up a musical tribute to our favorite songs throughout the decades. Audiences love the high-energy shows that musical Danny and Noemi deliver. The Palm is thrilled to welcome them, along with their band, to its stage for their much-anticipated new show! Us Two also adds another new show, 'Rocket Man/Dancing Queen' on Wednesdays beginning November 24 at 6 pm.
'Boys on Fire' is one of the hottest tickets in town. This troupe led by Sebastian Coronel from Argentina brings together 5 gorgeous men and professionally trained dancers in an incredible all-male burlesque cabaret show. Emceed weekly by Roy Gómez (Freddy Mercury) or Daniel Celis (US TWO). Parental guidance is suggested.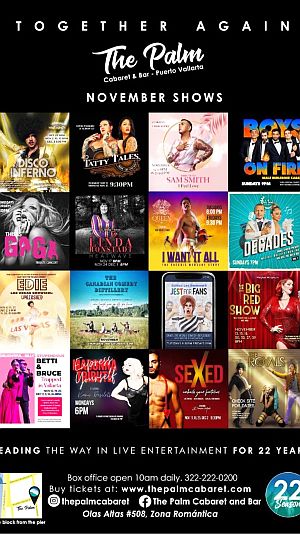 Mondays at 6 pm, Express Yourself features Vallarta's own 'Chameleon of Characters' Kami Desilets as she reinvents herself yet again, as Madonna. Audiences are loving this Gen-X trip down memory lane, as Kami pays tribute to the Queen of Pop through live singing and with professional dancers. This exciting new show recreates some of the most memorable music videos and television moments that made Madonna a superstar.
Another musical star has emerged in Vallarta, as Chris Lopez portrays Sam Smith in the hit show, Stay With Me, a musical tribute to this phenomenal English singer/songwriter. You'll hear smooth, romantic songs like "Stay With Me" and "I'm Not the Only One" that shot Sam Smith to musical stardom. Chris' vocals, creativity and emotion are riveting as he shares these heartfelt songs. You can see 'I Feel Love' on Fridays, November 5, 11 & 12 at 8 pm and on Tuesday Nov 16 at 9:30 pm & Nov 30 at 8 pm.
On Wednesdays, November 10 & 17 at 8:00 pm, you can groove to Tonny Kenneth's Disco Inferno. Tonny, along with backup singers and professional dancers, brings The Ultimate Disco Show to The Palm. You'll love all the golden hits of the Disco Age. With all-live vocals, stunning visuals, video clips, fabulous costumes, this show is a night of Disco Delight!
On Thursdays and Saturdays at 6 pm, The Canadian Comedy Distillery, an award-winning group of Canada's top improv comedians, brings a hilariously interactive comedy show to Puerto Vallarta. Every show is completely different because it's made up on the spot based entirely on audience suggestions with audience participation.
From November 4th thru December 6 on Mondays at 9 pm and Thursdays at 8 pm, don't miss 'Edie Las Vegas Showgirl: Unleashed.' Drag has never been so delicious! With over 5,600 shows as the host of Cirque Du Solei's 'Zumaniity,' Edie is a show biz pro with the voice and the moves to delight.
On Fridays at 6 pm, don't miss 'Betti & Bruce: Trapped in Vallarta,' a new musical comedy cabaret about the misadventures of lounge singing legends Betti Blumenthal and Bruce Delmonico. This hilarious show is written and performed by Rayna Hickman and Jason Winfield.
Sutton Lee Seymour returns to The Palm with his new show, Jest for Fans, on Tuesdays at 9:30 pm & Fridays at 8 pm beginning November 19. Everyone adores this musical theater aficionado who entertains with exciting and creative material each and every season.
Sexed: Unleash Your Fantasies, starring Demian Mats, happens on Nov. 11, 18, 25 & Dec.2 at 9:30 pm. This show features live vocals, sexy dancers and sensual performances.
Tatty Tales happens on Tues. November 9 & Monday the 15th at 9:30 pm starring Vallarta favorites Effie Passero & Alison Lo. And The Linda Ronstadt Tribute: Heatwave is featured on Wednesdays November 17 at 6 pm & the 24th at 8 pm.
Megan Murphy brings The Big Red Show to the venue at 8:00 pm on November 13, 15, 18, 20, 22, 27 & 29. The Chicago Sun-Times called her "The powerhouse Diva with a dynamic voice!"
There are more exciting performances coming up in December and into the New Year featuring some of your favorite stars like Kim Kuzma, Miss Conception, Dueling Drag Divas, Sutton Lee Seymour, Brandon & James, The Boy Band, The Skivvies, Cacophony Daniels, The Kinsey Sicks and more!
Tickets for all shows can be purchased at The Palm's box office at Olas Altas 508, or online at ThePalmCabaret.com. For your safety, the venue has added ventilation, social distancing, masks and reduced capacity. This means you can feel comfortable while enjoying all of the great performances at The Palm Cabaret.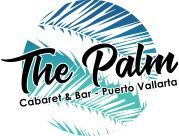 The Palm Cabaret and Bar is located at 508 Olas Altas in the heart of the Puerto Vallarta Romantic Zone. Tickets can be purchased at the venue's box office, which opens daily at 10:00 am, or online at ThePalmCabaret.com.
For more information, click HERE, call (322) 222-0200, visit their website, or follow The Palm Cabaret and Bar PVR on Facebook.