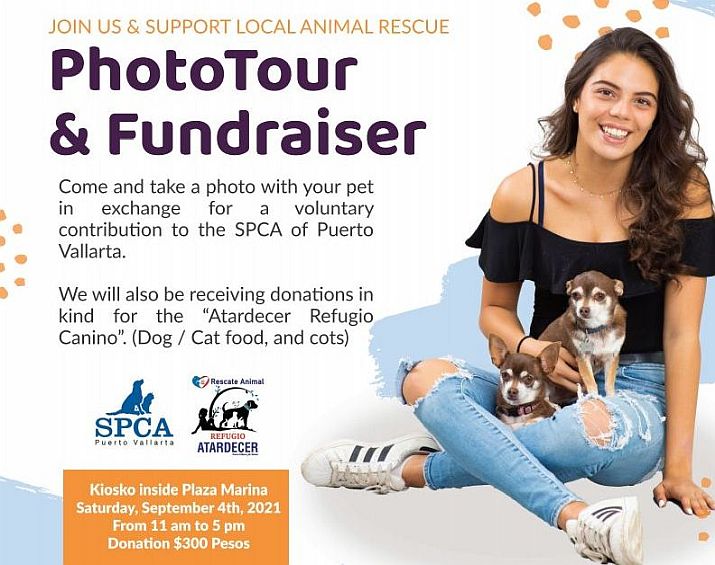 Puerto Vallarta, Mexico – Grab your furry friend and head out to the Kiosko inside Plaza Marina on Saturday, September 4th to have a photo taken with your four-legged friend in support of two of the Puerto Vallarta animal rescue organizations that were affected by Hurricane Nora.
From 11:00 am until 5:00 pm, renowned local photographer Daniel Álvarez will be taking professional photos as a means of raising funds to rebuild the SPCA de PV animal sanctuary, which was washed away by the river due to the heavy rains that followed Nora.
Your donation will also go towards the care and feeding of the almost 60 animals that were rescued from the shelter's ruins. (Suggested donation: $300 pesos)
At the same time, Daniel's non-profit initiative, Foto Tour Perruno will be collecting in-kind donations of dog food and dishes, along with dog beds or blankets, collars and leashes for the for the 34 dogs that were sheltered at Atardecer Refugio Canino before it was affected by the heavy rains, rising waters and strong winds brought on by the tropical storm.
Make plans now to come out to Plaza Marina on Saturday, September 4th between 11:00 am and 5:00 pm. Foto Tour Perruno gives dogs and cats a chance to strut their stuff, and pet owners the opportunity to have a professional photo taken with their four-legged friends – just for making a small donation to a good cause!
After the shoot, a high resolution photo will be emailed to you and posted on the Foto Tour Perruno Facebook page.