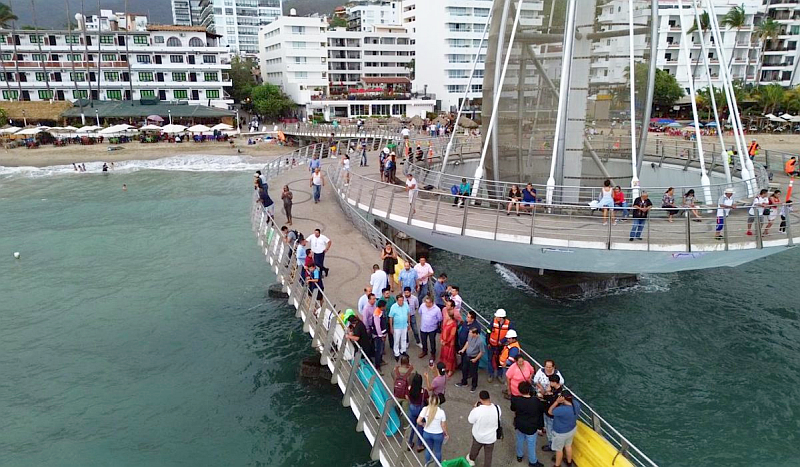 Puerto Vallarta, Mexico – On Wednesday, Puerto Vallarta Mayor Luis Alberto Michel Rodríguez visited the city's iconic Los Muertos Pier to oversee the rehabilitation works currently being carried out by the Jalisco Secretary of Infrastructure and Public Works (SIOP).
The pier, one of the best-known symbols of Puerto Vallarta, has suffered significant deterioration over the years and repairs are being made to ensure that it is in the best conditions during the upcoming summer vacation season.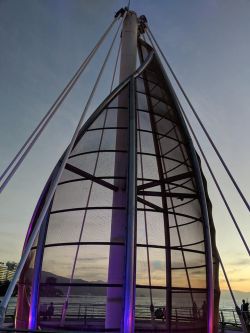 Staff from the Western Zone Infrastructure Construction Directorate of SIOP, including engineer Rodrigo Melchor Zepeda, explained to Profe Michel that an exhaustive restoration is being carried out that includes corrective maintenance of electrical installations, including the scenic lights and lighting in general, and the refurbishment of the pier's perimeter railing.
The entire structure of the pier will be sand blasted and repainted, and a zinc anode will be applied to the studs on the base plate of the "sail" to prevent metal corrosion. The zinc, in essence, stops the oxidation that occurs on metal parts, however, it has to be reapplied periodically.
The benches on the roundabout and the garbage cans will be repaired or replaced, the sail will be thoroughly cleaned, and a platform for the embarkation and disembarkation of passengers will be installed. The work will tentatively be completed in less than three months.
The investment will amount to 10 million pesos, which will be covered, in part, by resources from the 3% lodging tax that is collected by the Puerto Vallarta Tourism Trust.
Professor Michel recalled that the current pier was built more than a decade ago with a very attractive image and stressed the importance of it being in the best physical condition, not only for image, but also for safety and security reasons. As such, he asked the representatives of the SIOP various questions in relation to the quality and scope of these works.
The president, secretary, and members of the Emiliano Zapata Neighborhood Association accompanied the delegation, formed by various municipal officials and city councilors Alberto Avelar Zúñiga and José Ignacio Cruz García, on the Mayor's tour of the pier.