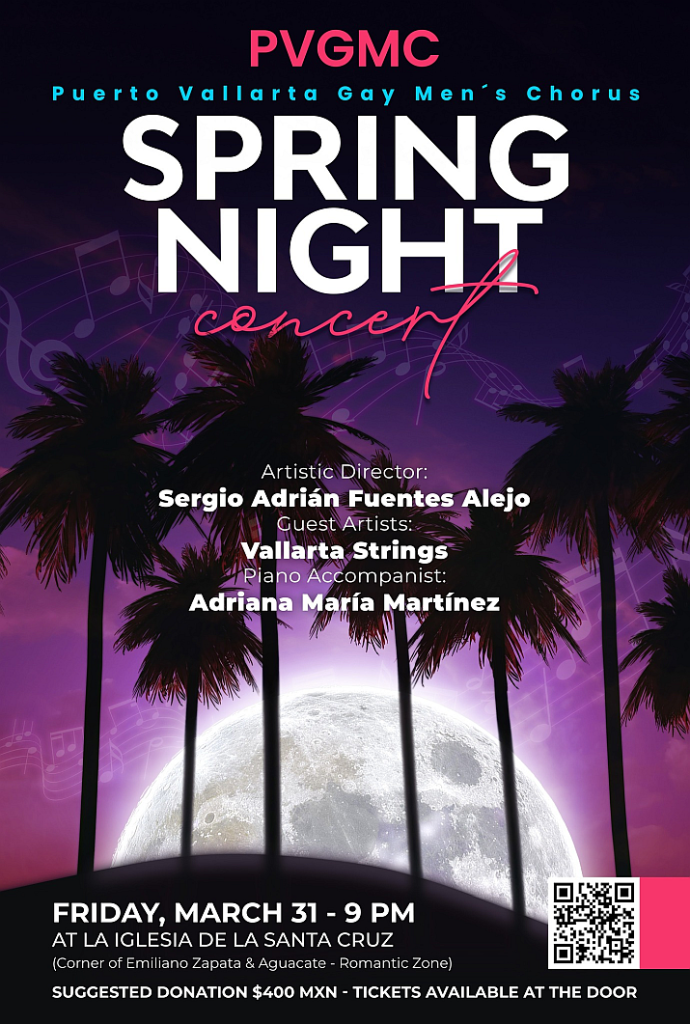 Puerto Vallarta, Mexico – The Puerto Vallarta Gay Men's Chorus (PVGMC) is proud to present their Spring Night Concert on Friday, March 31, 2023 from 9:00-10:15 pm at La Iglesia de La Santa Cruz in the city's Romantic Zone.
Led by artistic director Adrián Fuentes and featuring Adriana María Martínez on piano, the concert will be presented in half-light, which provides the perfect atmosphere for the PVGMC's choral harmonies to entertain, enlighten and inspire.
For the Spring Night Concert, they will perform a repertoire of modern works by composers such as Lauridsen, Bernstein, Queen and The Turtles, as well as traditional music from Mexico and Argentina. In addition, special guests Vallarta Strings, the newest string ensemble in Puerto Vallarta, will perform some parts from the widely known Four Seasons by Antonio Vivaldi.
Tickets for this special night will be available at the door for a suggested donation of $400 MXN.
The PVGMC brings you the talents of gay men from Mexico, the United States, Canada and around the world who aim to build bridges of understanding, acceptance and love through song. They are warmly embraced by the local Mexican and Ex-Pat community, as well as tourists from many cultures. For more information, visit pvmenschorus.org.