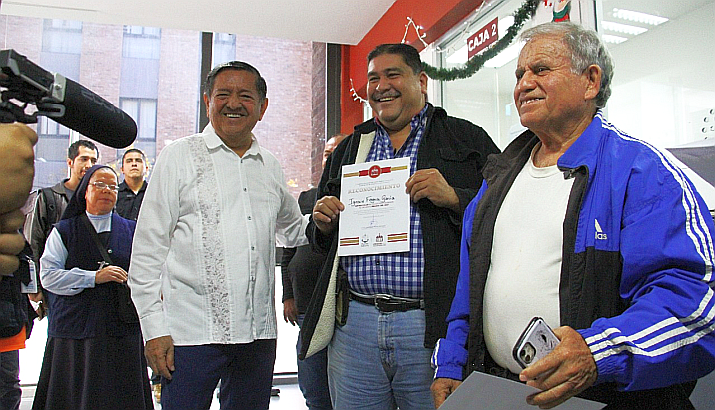 Puerto Vallarta, Jalisco, Mexico – Municipal President Professor Luis Alberto Michel Rodríguez arrived minutes before the Cadastre office in the Municipal Administrative Unit (UMA) opened on Monday, January 2, to greet and thank the first 5 people to pay their 2023 property taxes, which he said will be used to improve the quality of life of Vallartenses.
Wishing them a happy new year, 'Profe Michel' said he also wished their resolutions for the new year to be fulfilled, "that everything be for the good of all the people of Puerto Vallarta and that we be favored."
He said that "paying property taxes is very important because the purpose of these resources is precisely to return them to the people, to the neighborhoods, through city services, through maintenance, to help neighborhoods that have been very neglected… and that is where we are going to invest them."
The municipal president stressed that each peso that enters the municipal coffers makes it possible to build more streets, bring public lighting, drainage, social programs and other services to places where there is none yet; in addition to improving garbage collection with new units and public safety with the purchase of more patrol cars, "everything that is required, to the extent that the City Council can do it, will be done."
Therefore, he recognized the citizens who year after year strive to be the first to comply with this obligation and be an example of that teamwork that makes Puerto Vallarta a great place to live. He awarded recognitions to Wenceslao Palomar Meza, Javier Estrada Estrada, Ignacio Fregoso García, Gustavo Alfonso Esparza and Brígida Alvarado Duarte, the first of them with 20 years of being among the first contributors, the second with 11 and the third with 15 years. The first three contributors were given a present, in addition to the distinction,
The head of Cadastre, Augusto Alcaraz Valencia, who accompanied the municipal president in this act, recalled that in 2022 the agency collected approximately 620 million pesos, including 329 million in property tax, an amount that is expected to exceed this year.
He reminded taxpayers that payments made in January receive a 15% discount, a 10 percent discount will be given for payments made in February, and a 5 percent discount for those who pay in March 2023.
In addition, retired people, pensioners, disabled people, widows and those between 60 and 74 years of age, as well as social assistance institutions and religious associations, receive a 50% discount; for people between 75 and 79 years of age it will be 60 percent; and those who are 80 years of age or older, 80 percent.
If you have a Mexican credit or debit card, property tax payment can be made online at puertovallarta.gob.mx, and at Santander banks (account 6550 3662 274 or interbank CLABE 01 4375 6550 3662 2748), BBVA (account 01 9150 2565 or interbank CLABE 01 2375 0019 1502 5656) and Scotiabank (account 2560 1062 262 or interbank CLABE 04 4375 2560 10622 625).
Other tax collection points are the offices of the Municipal Treasury in the UMA, the municipal presidency, the municipal delegations of El Pitillal, Ixtapa and Las Juntas, and at UNIRSE, as well as at Kiosko and Oxxo stores throughout the city.