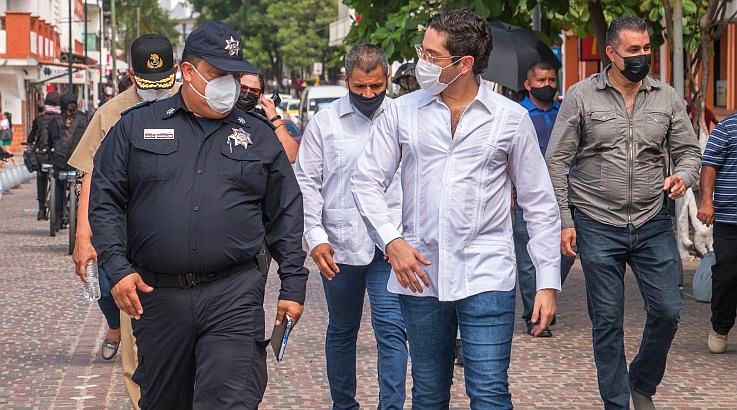 Puerto Vallarta, Mexico – In a responsible manner and teaming up with authorities from the three levels of government and society in general, in these first hundred days of his administration, Mayor Luis Alberto Michel Rodríguez has proven that he is committed to the security of Puerto Vallarta and the tranquility of its people.
To this end, in addition to holding regular meetings to develop new security strategies, various operations, including Vallarta Seguro, Cero Tolerancia, Operativo Puentes and Operativo en Centros Comerciales, have been formulated with the aim of inhibiting any criminal conduct.
To date, these security units have carried out 68 operations along the tourist strip and in various neighborhoods throughout the Municipality.
Likewise, work has been done to elevate the police department and to have professional and highly trained lawmen, for which the Police and Traffic Academy has been strengthened. Today, 31 officers (18 women and 13 men) are in the process of being trained. Once they complete their preparation, they will be joining the ranks of Citizen Security.
In addition, various courses have been given to the already active members of the department, such as Strengthening the Security of Groups in Situations of Vulnerability, Civic Justice, Gender Culture and Eradication of Violence, Human Rights and Gender Perspective, among others, with which the actions of the corporation are strengthened.
In just 3 months, more than a dozen abandoned patrol cars have also been rehabilitated, which represents almost a third of the fleet that the Municipality has, and actions will continue to be carried out to better equip our security forces and to ensure that Puerto Vallarta remains a safe city for everyone.