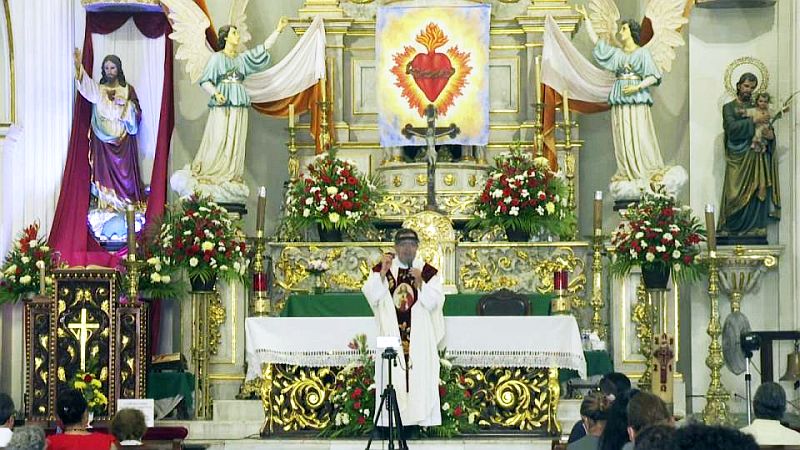 Puerto Vallarta, Jalisco, Mexico – On Friday, June 24, the church of Our Lady of Guadalupe will revive the city's historic pilgrimage of the Sacred Heart, which has been held behind closed doors for the last two years due to the health contingency. This annual celebration was established in 1926, after Puerto Vallarta survived the threat of torrential rains.
"Next Friday, June 24, we will make a pilgrimage to the Sacred Heart, for 96 years a sworn feast of all Vallartans in honor of our Lord Jesus Christ. At that time, an oath was sworn to him due to the climatic conditions of very heavy rains that existed, we made that promise, that if he helped with the harvests so that there would be no famine or need in the population, the community promised to celebrate his party every year and it has been done so with great affection and devotion," Roberto Cordero Robles, the Our Lady of Guadalupe parish priest, said.
It was on January 6, 1926, when strong storms threatened the population and its economy, that the inhabitants of the nascent municipality of Puerto Vallarta, among them its first president, Jesús Langarica, as well as representatives of merchants and peasants, gathered near the then-parish priest Francisco Ayala and requested he pray for the intervention of the Sacred Heart.
After the cessation of the rains and winds, they declared that day as the Feast of the Sacred Heart, to be celebrated throughout the town. In addition, they declared that employers must release their employees from work on that day and treat them as brothers. They also called for the merchants to not to raise the prices of their goods in dire times.
Since then, the descendants of those families have been invited not to let that memory and gratitude die, and to celebrate the occasion with an annual pilgrimage. In 2020, they again invoked their faith in the midst of the coronavirus pandemic. In an emotional ceremony led by Bishop Luis Artemio Flores, representatives of each of the productive sectors and the local Catholic flock signed a commitment, an oath that will be renewed on Friday.
"At six in the afternoon we will begin with a pilgrimage to the church from the intersection of Juarez Street and 31 de octubre 31. We'll walk to the temple of Our Lady of Guadalupe and there we will celebrate the Eucharist at seven in the evening. Everyone is invited," the cleric said.
Source: Tribuna de la Bahía