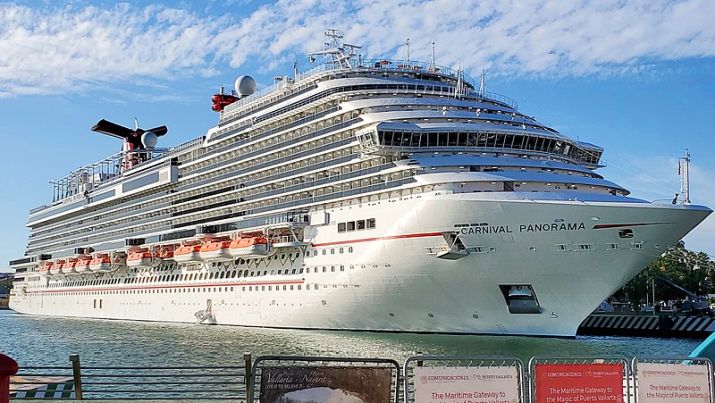 Puerto Vallarta, Jalisco, Mexico – The first cruise ship with tourists aboard is scheduled to arrive in Puerto Vallarta on Tuesday, August 24, which will mark the reactivation of this tourist segment.
A little over two weeks before the reactivation of international cruise tourism in Puerto Vallarta, Jalisco Governor Enrique Alfaro Ramírez announced that cruise ship passengers who are not vaccinated will not be allowed to disembark in this tourist destination.
During the governor's message, he stressed that those who have been fully vaccinated and wish to visit our city must show proof of vaccination. In addition, they must undergo a Covid-19 rapid test before they are allowed to disembark.
He indicated that these conditions have already been accepted by all of the cruise lines that plan to restart voyages that include this port in their itineraries.
The first cruise ship to arrive in Puerto Vallarta will be the Carnival Panorama. One of the largest ships in the cruise line's fleet, the 322 meter-long, 4,800 passenger Carnival Panorama will offer a seven-day itinerary from Long Beach, California to stunning destinations along the Mexican Riviera, including Cabo San Lucas, Mazatlán and Puerto Vallarta.
The ship will call at Puerto Vallarta first on Tuesday, arriving at 8:00 am and departing at 8:00 pm. On Wednesday, the next day, there will be a call at Mazatlan with an arrival time of 9:00 am and a departure of 6:00 pm. The final port of call will be at Cabo San Lucas on Thursday with an arrival time of 7:00 am and then departing at 3:00 pm.
These cruises, which will be limited to 70% capacity in an effort to keep guests and crew safe, will be offered on a regular basis through at least the end of October.
Sources: jalisco.gob.mx • contralinea.net • cruisehive.com