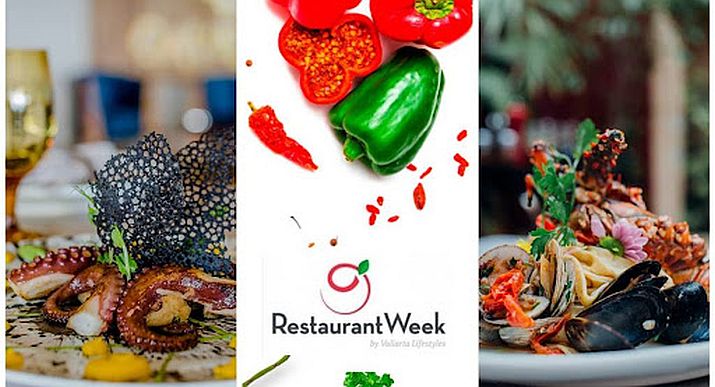 Puerto Vallarta, Mexico – 40 restaurants in Puerto Vallarta and Riviera Nayarit are set to celebrate 18 years of Restaurant Week. Organized by Vallarta Lifestyles Media Group since 2005, the general idea for this successful event was inspired by the culinary festivals that were already taking place in other international cities around the world.
The Café des Artistes' Signature Cuisine Room was the elegant venue for the press conference that offered the details of Restaurant Week 2022. This presentation was led by Jorge Chávez and Juan Pablo Hernández, executive director and operating director of Restaurant Week, respectively; as well as Thierry Blouet, chef-owner of the Café des Artistes Group; Alondra Naranjo, zone coordinator of Cristalería La Única; Luis Villaseñor, general director of the Puerto Vallarta Tourism Board and Richard Zarkin, public-relations director of the Riviera Nayarit Development and Promotion Board.
"We have a lot to celebrate. In addition to celebrating 18 years of uninterrupted history that reflects the success of the event, we are also back to our traditional dates, that is, from May 15th to June 10th, 2022. Restaurant Week is one of the few events that took place during 2020 and 2021, some of the most complicated years in recent history. We were there to support the economic reactivation of the restaurant industry," said Jorge Chávez, executive director of Restaurant Week.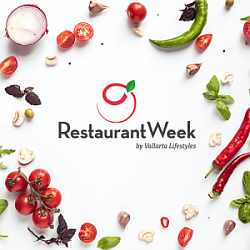 Restaurant Week provides diners in Puerto Vallarta and Riviera Nayarit with the opportunity to enjoy significant discounts on innovative three-course menus (with three options each) at some of the most prestigious restaurants in the destination.
This year's event welcomes back the following restaurants that have participated in previous editions: Abbraccio Cucina Italiana, Archie's Wok, Azafrán Restaurant, Barcelona Tapas, Basilio Comer & Beber, Blanca Blue, Bocados Steak House, Bravos Restaurant, Café des Artistes, Casa 449 · Comedor Contemporáneo, Di Vino Dante, Eclecticos Restaurant & Bar, Eugenia, Hacienda San Ángel Gourmet, Joe Jack's Fish Shack, Kaiser Maximilian Restaurant, La Cigale French Bistro, Le Kliff, LOMA 42 Bahía, Makal, Opa Greek Bistro, Sabal Playa, Sandrina's Cocina Mediterránea/Griega, Serrano's Meat House, Siam Cocina Thai, Sonora House, The Iguana Restaurant & Tequila Bar, The Swedes Bar & Bistro, Trattoria Di Nuovo, Trio Restaurant · Bar · Café and Vitea Oceanfront Bistro.
The restaurants that are participating in Restaurant Week for the very first time in 2022 are: DAO Contemporary Chinese Cuisine, Hiroshi Japanese Cuisine, La Tienda Grande, Los Toneles Vallarta, Tierra Tropical, NOI Ristorante Italiano, Oyster Grill, Serrano's Grill and Vivero Wine Bar.
Restaurant Week 2022 participants will present their menus in one of three price categories: 299, 399 or 499 pesos per person. (Rates do not include drinks nor tips.)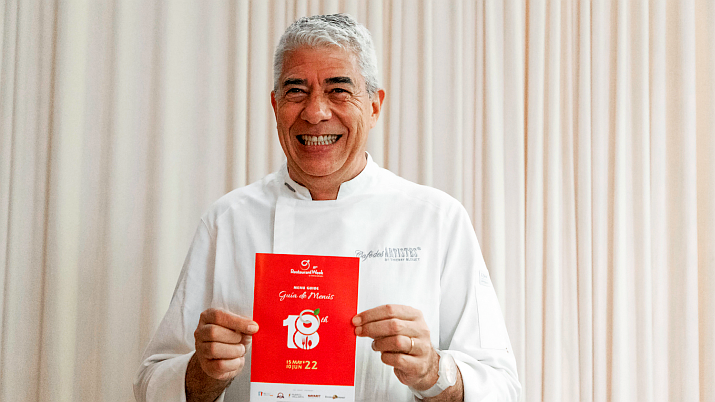 "Restaurant Week is a fabulous and very successful project. During the most complicated years of the pandemic, even with a change in date, this culinary festival showed us its consolidation and it contributed to the recovery of the restaurateurs with very good results. Now we are going to have the participation of 40 restaurants along Banderas Bay and there are more and more places wanting to be part of this world-wide renowned event," shared Thierry Blouet, chef-owner of Café des Artistes Group.
Restaurant Week is supported by the Puerto Vallarta Tourism Board, as well as the Tourism Promotion Board of the Nayarit Coastal Area.
Restaurant Week 2022 is sponsored by Cristalería La Única, a Mexican company dedicated to the commercialization of glassware for the home, restaurants, hotels and industries. With more than 27 years of experience and 19 branches in the Metropolitan Area of Guadalajara and Puerto Vallarta, as well as two distribution points, Cristalería La Única features a catalog of more than 12,000 specialized products and online sales with shipments all over the country.
For more information, visit RestaurantWeekPV.com, where the menus of the participating restaurants can be reviewed.