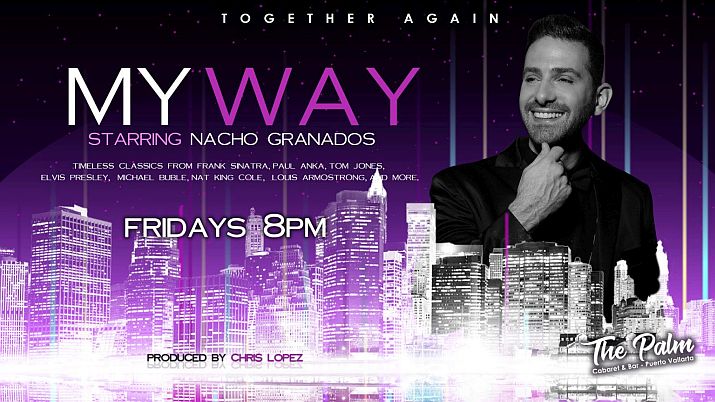 Puerto Vallarta, Mexico – If you're going to sing some of music's most legendary songs, you'd better not miss the mark. This past Friday night at The Palm, Nacho Granados absolutely astonished his audience with his masterful delivery of songs made famous by some of music's greatest performers.
In his new show, My Way, Nacho took us on a magical journey through timeless classics and great performers such as Michael Buble, Ben E. King, Lionel Richie, Frank Sinatra, Tom Jones, Elvis Presley, Paul Anka, Neil Diamond, The Righteous Brothers and more.
With video accompaniment, superb choreography, breathtaking vocals and no shortage of charisma to go along with his fabulous good looks, Nacho Granados may just be one of Vallarta's most appealing new musical stars. Energetic and classy, Nacho has the moves and the voice to live up to these timeless classics.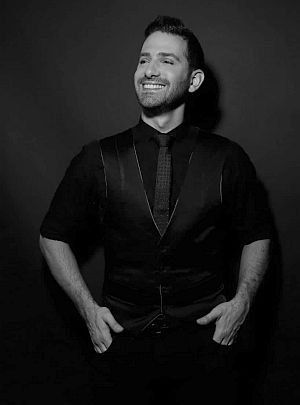 Nacho opened the show with a Michael Buble classic and moved on to favorites like, Fly Me to the Moon, New York New York, Stand By Me, I Who Have Nothing, Only You, Unforgettable, Put Your Head on My Shoulder and so many more! Sweet Caroline drew in some wonderful audience participation and the timeless classic I've Got You Under My Skin included a surprise performance. And of course, the show's namesake, My Way, was one of the highlights of the night. Another incredible part of the performance was an emotional, medley of Spanish hit songs. The show included a quality accompaniment of piano and backtracks that gave a nice musical background to these classic numbers.
If you haven't been to The Palm Cabaret lately, it's worth noting that they've added some exciting new features to their stage. With upgraded lighting, sound and technical bells & whistles, you'll experience a truly professional delivery of their top-notch productions. These new upgrades enhanced Friday's performance as the audience was absolutely riveted to the stage the entire hour and a half. The stage changed during the performance to fit the songs and mood.
Nacho Granados was born in Buenos Aires, Argentina and at the age of 18 he took his first musical theater lesson and at 22 had his first show. This was the beginning of being part of musical theater shows for kids and Broadway-style shows, at the same time having his own performances in pubs, nightclubs and restaurants. In 2011 he moved to Mexico, continuing his singing career and meeting his friend, colleague and producer Chris Lopez, who contributed to great shows like This Is Gaga, I Want It All, and Stay With Me.
Make sure to see Nacho Granados in My Way on Fridays at 8:00 pm. You'll definitely enjoy this outstanding show and want to experience the talent of one of Vallarta's up-and-coming new stars! This is musical nostalgia and show biz classics at their very best!
Tickets can be purchased at the venue's box office, or online at ThePalmCabaret.com. For your safety, the venue has added ventilation, social distancing and reduced capacity. Masks are required to enter. This means you can feel comfortable while enjoying all of the great performances at The Palm.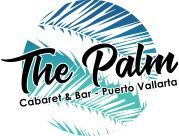 The Palm Cabaret and Bar is located at 508 Olas Altas in the heart of the Puerto Vallarta Romantic Zone. Tickets can be purchased at the venue's box office, which opens daily at 10:00 am, or online at ThePalmCabaret.com.
For more information, click HERE, call (322) 222-0200, visit their website, or follow The Palm Cabaret and Bar PVR on Facebook.