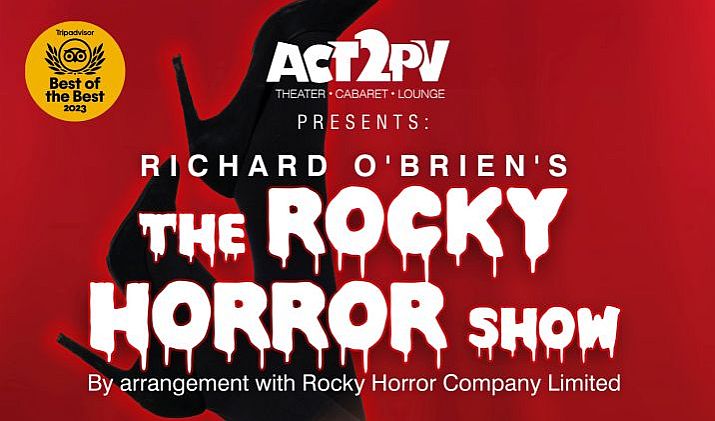 Puerto Vallarta, Mexico – Act2PV, the #1 entertainment venue in Puerto Vallarta, kicks off their 11th season of entertainment on October 31 with 'The Rocky Horror Show'. Plus, all of your favorites continue this week and Brenda Gavino's new show, 'From Paris to Broadway', opens November 2.
Check out the schedule below, mark your calendars, get your tickets at act2pv.com, and get ready for an amazing experience!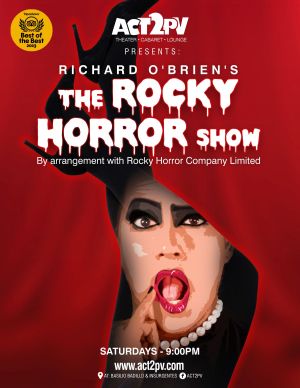 THE ROCKY HORROR SHOW
Tuesday, October 31
(Opening Night Party 5:30 / Show 6:30 pm)
The Rocky Horror Show is back! This ultra-campy cult classic opens at Act2PV on October 31. It is a humorous tribute to the science fiction and horror B movies of the 1940's through the 1970's and tells the story of Brad Majors and Janet Weiss, a straight-laced, newly engaged couple, whose car breaks down and find themselves caught in a terrible storm. They stumble upon the castle of Dr. Frank-n-Furter, a mad transvestite scientist, who is having a party to celebrate the unveiling of his newest creation, Rocky Horror, a man-made Adonis that will give absolute pleasure.
Featuring Victor do Espirito as Dr Frank-n-furter and Opera singer, Rafael Velazquez as Rocky, "The Rocky Horror Show" is funny, outrageous, gripping and haunting, all at the same time. Many in the audience will come clad in their favorite cult "Rocky" garb, and everyone loves to participate in the shout-outs and props during the show!
DON'T FORGET! There will be a Rocky Costume Competition at the opening on October 31. Come to see the show dressed in your most outrageous "Rocky Garb" and join the fun! This is a "must-see" event in Puerto Vallarta! After you have seen it once, you will talk about it for the rest of your life! A few tickets are still available now at act2pv.com.
NEW SHOW OPENING THIS WEEK!

FROM PARIS TO BROADWAY
Thursday, November 2
OPENING NIGHT Party: 5:30 / Show 6:30 pm
Step into a world of timeless melodies and unforgettable performances as "From Paris to Broadway" takes you on a musical journey like no other. Join Brenda Gavino, a passionate singer with a heart full of music, and Fernando, the master behind the piano keys, as they weave together the most beautiful opera arias and the evolution of musical theater hits.
Brenda is a highly versatile singer who has starred in Act2PV's Linda Ronstadt show, Amy Winehouse tribute, Opera Night, Supreme and The Best of Broadway. With songs such as Habanera, O Mio Babbino Caro, Think of Me, Brindisi, Ave Maria, and many more, this captivating show will transport you from the romantic streets of Paris and the grandeur of European opera houses to the dazzling lights of Broadway, all through a carefully chosen selection of the finest musical pieces.
ACT2PV SHOW SCHEDULE (OCTOBER 27- NOVEMBER 3)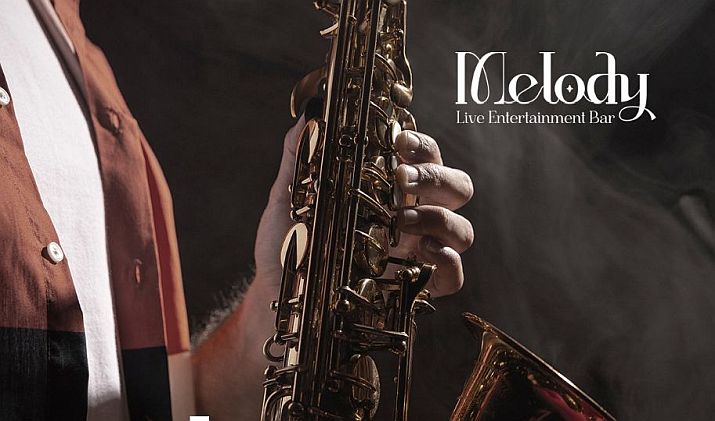 ALONSO IN THE MELODY BAR
Wednesday, November 1 at 8:00 pm
This is a LIVE SEXY SAXOPHONE SHOW that will not only delight the ear, but is a sight to behold, too! Alonso is an experienced saxophonist and professional dancer who is joined on the stage by two VERY sexy dancers. He will perform some of the best-known covers, such as Besame Mucho, Love on the Brain, Bohemian Rhapsody, Careless Whisper, Life is a Carnival, and many more. He will also present different types of dance styles, including contemporary, circus and Latin rhythms. Just watching him dance is worth the price of admission. It's s a FREE SHOW! All you have to do is pay for your drinks.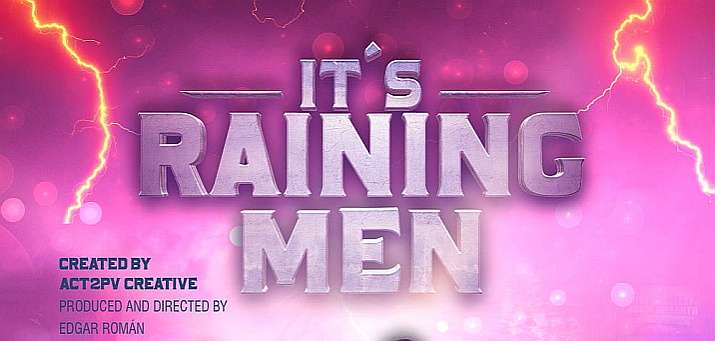 IT'S RAINING MEN
Fridays, Oct 27 & Nov 3 at 8:00 pm
Looking for a night of pure passion and excitement? Look no further than Act2PV's hottest show: "IT'S RAINING MEN!" Featuring the most seductive male dancers in Puerto Vallarta and hosted by the tantalizing Ximena Esparza, this spectacle has everything you desire. From sultry choreography and steamy stripteases to irresistible beats and rock-hard abs, it's a feast for the senses you won't forget.
No matter who you are, there's something for you in this one-of-a-kind burlesque experience. Ladies, gather your girlfriends for a night out on the town or surprise the bride-to-be with a bachelorette party she'll never forget. Fellas, bring the boys for a night of wild fun or celebrate your newfound freedom with a divorce party. Or, make it an intimate affair with your significant other and indulge in a night of pure, unadulterated passion.
So what are you waiting for? Don't miss out on the storm that's brewing at Act2PV. Get your tickets now for "IT'S RAINING MEN!" (*Note: adult content)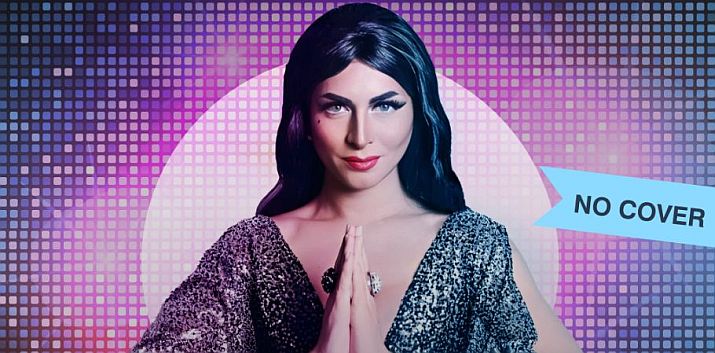 DISCO NIGHT IN THE MELODY BAR
Fridays, October 27 & Nov 3 at 8:30
FREE SHOW! Host, Karma La Perra invites you to an evening of drinking, dancing and fun! The beautiful Melody Bar is air-conditioned and fully stocked with your favorite liquor!
Tickets for all of these shows are available at act2pv.com. To see the shows for our new 2023/2024 season, go to the Act2PV website. Tickets are available now!

The Act2PV Entertainment complex is located on the corner of Insurgentes and Basilio Badillo on the South side of Puerto Vallarta. For more information, follow Act II on Facebook. Click HERE to learn more about Act2PV.