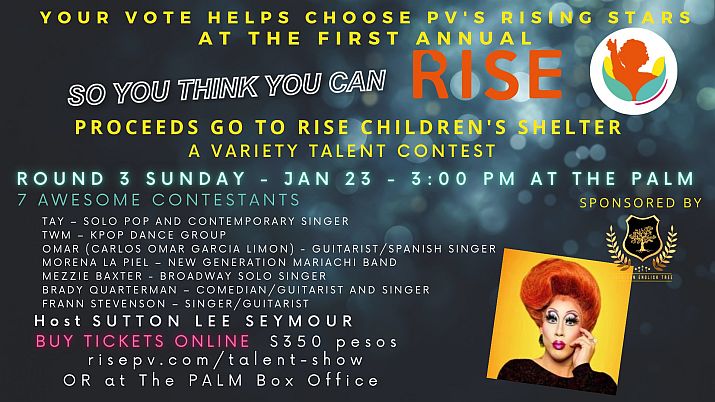 Puerto Vallarta, Jalisco, Mexico – Round Three of 'So, You Think You Can RISE,' Puerto Vallarta's first Variety Talent Contest, will be held at The Palm Cabaret on Sunday, January 23 at 3:00 pm. Make plans to attend NOW so you won't miss your chance to vote on the next rising PV Superstar! Let's have some fun and raise some funds for the RISE Children's Shelter.
Round 2 was another fantastic event with a newly formed dance group, Ultimate Dance Company, winning that round and advancing to the Grand Finale at Teatro Vallarta on February 20th. This Group of 5 dancers, led by Jassam Callleja, put on a show that included swing and house dance. They will be joining Jo Reyes, a 25 year old pop singer with an amazing voice, who won Round 1.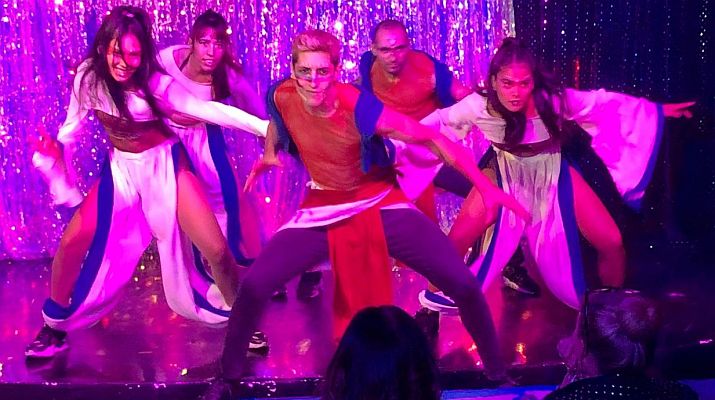 So, You Think You Can RISE is a series of 7 Talent Shows, modeled after America's Got Talent. The contest consists of 6 Preliminary Rounds with the winner of each Round advancing to the Grand Finale at Teatro Vallarta. Preliminary Rounds are on Sundays at 3:00 pm, and the Grand Finale is on Sunday, February 20th at 7:30 pm. Buy tickets at risepv.com, at Cassandra Shaw Jewelry on Basilio Badillo, or The Palm Cabaret at 508 Olas Altas in the heart of the Puerto Vallarta Romantic Zone.
If you missed the first two rounds of competition you won't want to miss the third one, which will be hosted by New York City's Live-Singing Comedy Queen of Stage and Screen, Sutton Lee Seymour, whose non-stop comedy show, Jest for Fans, is currently playing at The Palm Cabaret on Tuesdays at 9:30 pm and Fridays at 8:00 pm.
So, You Think You Can RISE – Round Three
Sunday, January 23rd at 3:00 pm
The Palm Cabaret, 508 Olas Altas, Zona Romantica
Round 3 Contestants:
• Tay – Contemporary Pop Solo Singer
• TWM – Kpop Dance Group
• Omar (Carlos Omar Garcia Limon) – Guitarist/Spanish Singer
• Morena la Piel – New Generation Mariachi band
• Mezzie Baxter – Broadway Solo Singer
• Brady Quarterman – Comedian/Guitarist and Singer
• Frann Stevenson – Singer/Guitarist
Make plans now to be at The Palm Cabaret on Sunday, January 23rd at 3:00 pm, and be among the first to see some of the hidden talent we have here in Puerto Vallarta. All proceeds go to RISE Children's Shelter.

R.I.S.E. (Refugio Infantil Santa Esperanza) is a privately funded, 50-bed children's shelter in Puerto Vallarta, providing a loving environment for children who are "at risk" at home or have no home. These resilient children range in age from newborn to mid-teens. For 20 years RISE has operated with a combination of a great staff and a team of volunteers that keep RISE running. RISE is 100% funded through private donations and fundraising is a huge part of our ability to provide these children with nutritional meals, education, medical and dental services, activities, clothing & more. Learn more at risepv.com.