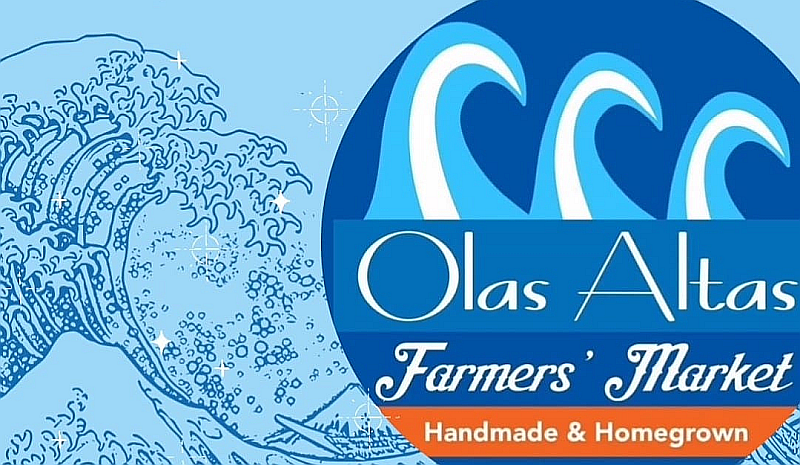 Puerto Vallarta, Mexico – One of Puerto Vallarta's favorite weekend attraction – the Olas Altas Farmers' Market – will kick off its 14th season at Lázaro Cárdenas Park on Saturday, November 5, and will be open every Saturday between 9:30 am and 2 pm until the last Saturday of April.
The Olas Altas Farmers' Market is a blend of the old-world Mexican Tianguis and the North American-style farmers market. Shoppers gather each week to peruse the 80+ vendor booths. All products are made, baked, grown, and sold by vendors who live within 50 miles of Vallarta.
Enjoy live music and the rich aromas of baked bread and freshly ground coffee as you stroll through the market. Fill your shopping bags with farm-to-table produce, herbs, flowers, and artisan foods such as baked goods, locally made meats and cheeses, fresh pasta, quiche, meat pies, and more.
The talented artisans also provide a wide assortment of unique arts & crafts including custom-made bathing suits and sandals, jewelry, home accessories, hand-rolled cigars, all-natural skincare products, and traditional Mexican musical instruments.
On-site services include sessions with a board certified chiropractor and a professional massage therapist. Nonprofit groups are on hand to keep you informed about local fundraising efforts and scheduled events.
The food court is always a delight to visit with its delicious assortment of tasty foods, ice cream, and beverages. Choose from Mexican, Argentine and East Indian dishes, among others.
You can meet new friends, say hello to old ones, talk directly to the producers, buy great products, support the local economy and take part in activities for the whole family. Live music adds a festive vibe to the market.
The Olas Altas Farmers' Market is located in Lazaro Cárdenas Park (kitty-corner from Daiquiri Dick's on Olas Altas). It is pet friendly as well as wheelchair and stroller accessible. Plenty of parking is available in the underground garage.
For more information and updates, visit the Market's Facebook page.