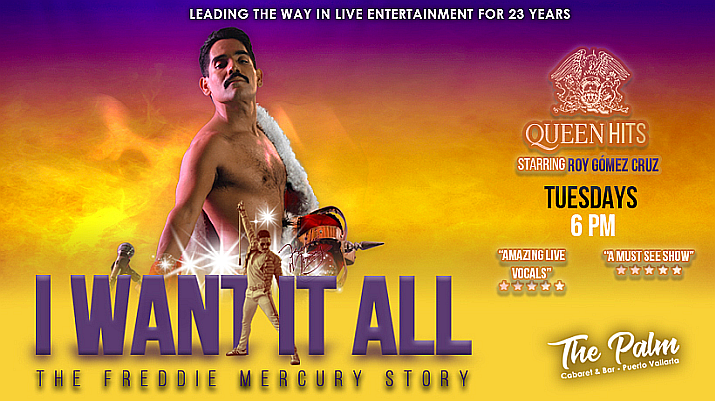 Puerto Vallarta, Mexico – Puerto Vallarta has evolved into a world-class, entertainment destination. We are now the beneficiaries of a wide range of talent and musical genres. Roy Gomez Cruz arrived three seasons ago at The Palm Cabaret with his Queen Live Forever show that took performance to a new level in PV.
Roy then introduced his show, I Want it All: The Freddie Mercury Story in the Spring of 2021, and it immediately became a smash hit. He has since updated the performance with new songs, videos and choreography.
Roy continues to deliver powerful, thrilling vocals, Queen hits and an incredible live entertainment experience. I Want It All is a breathtaking musical event that you won't soon forget! I loved the show when I saw its debut, and I like it even more with the new material that's been added. This season the show happens on Tuesdays at 6:00 pm.
I Want It All takes you on an energetic, visual and emotional journey through the songs and life events that made Freddie Mercury larger than life. Roy Gomez Cruz's powerful vocals and unbelievable impersonation bring you as close as you'll ever be to this rock icon.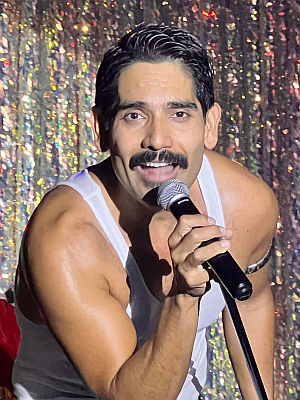 Roy's professional musical and performance training shines through in this show. Not only does he sing every song authentically, but his costumes, style, persona and audience engagement all measure up to the legendary Freddie Mercury. I liked his portrayal of Freddie, even better than the movie version. Several times during the night, Roy also accompanies himself on the piano, just like the iconic Freddie Mercury did in his concerts.
This past Tuesday, the audience went wild for this performance as they sang along and applauded Queen's greatest hits. With fascinating video footage of Queen concerts and interviews in the background, the show entertained and educated us about this totally unique and groundbreaking star. We even felt a moment of sadness as we saw the movie film clip about Freddie's battle with AIDS and the ultimate loss of such a groundbreaking Rock Star. The concert took us through Freddie's transformation into an eternal legend!
Throughout the performance we experienced hits like, I Want It All, I Want to Break Free (with the classic reenactment of the Queen cross-dressing video), We also enjoyed classics like, Somebody to Love, We Will Rock You, It's a Beautiful Day, Another One Bites the Dust, Love of My Life, Who Wants to Live Forever, Crazy Little Thing Called Love, Under Pressure, Radio Gaga, We Are the Champions and so many other classic Queen hits. And of course, the best known of all Freddie Mercury songs, Bohemian Rhapsody, was a highlight of the evening.
Joining Roy throughout the entire performance were two, sexy, performance artists, Joshua Ryan and Mery Zambrano, who danced, acted and sang, adding another fabulous dimension to the show. Roy has definitely taken this performance to new heights with incredibly creative choreography, dance, vocals and spectacular reproductions of Freddie's iconic costumes. Roy Gomez Cruz truly becomes Freddie Mercury for over an hour in this sensational show.
The Palm Cabaret's Mark Rome praises Roy's performance by saying: "This is much more than just a show. I have never seen audiences embrace and enjoy a performance like this. Absolute magic happens with this unforgettable tribute to Freddie and Queen."
I Want It All takes each audience member on a memorable, musical journey. It is no small task to take on the challenge of portraying such an extraordinary musical icon and Roy does it perfectly and with the energy and passion of the legend.
Roy Gomez Cruz has years of successful participation in Queen Tribute shows. He has a master's degree in Communications, specifically examining Cirque du Soleil as a cultural industry of global reach. He has fully immersed himself in artistic creation and performance. From a musical family, Roy grew up loving the band Queen and knew all their music.
He considers it a great honor to pay tribute to such a legendary performer. Larger than life, Freddie was a complex artist who is a challenge to portray, but Roy sees every show as a wonderful privilege to honor and share the music and the persona of Freddie Mercury and Queen.
Don't miss I Want It All: The Freddie Mercury Story every Tuesday at 6 pm at The Palm Cabaret. Roy also delivers a brand new Freddie Mercury tribute show at The Palm called Don't Stop Me Now on Fridays at 9:30 pm. Experience the music of Queen delivered in the most amazing tribute performances you'll ever see!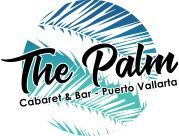 The Palm Cabaret and Bar is located at 508 Olas Altas in the heart of the Puerto Vallarta Romantic Zone. Tickets can be purchased at the venue's box office, which opens daily at 11:00 am, or online at ThePalmCabaret.com.
For more information call 322-222-0200, visit their website, or follow The Palm Cabaret and Bar PVR on Facebook.