Bucerías, Nayarit, Mexico – Soul Fest in The Garden II offered an incredible night of entertainment and Soul Food in the idyllic setting of Los Arroyos Verdes on the North Shore on Sunday, February 5th. The concert provided superb musicians and talented local artists as well as a variety of delicious cuisine in the beautiful setting of Bucerías.
Dwight Blake Entertainment, in association with The MoSoul Concert, featured this fantastic outdoor music festival offering a music extravaganza that absolutely thrilled those in attendance. The show was in association with 'Rick's Staying Alive Party' and celebrated health and happiness in a fabulous night of music, food and friendship.
The show opened with the amazing Keith Tynes, formerly of The Platters, thrilling the crowd with fabulous renditions of R&B and Pop classics like, All Night Long, What's Going On, The Greatest Love, Stand By Me, The Twist, Only You and more! Keith was "Mr. Personality," charming the audience with his wit and fabulous voice. You can catch Keith's shows in the Puerto Vallarta Romantic Zone at Act2PV on Sundays at 6:30 pm and at La Catrina Cantina on Tuesdays and Thursdays evenings.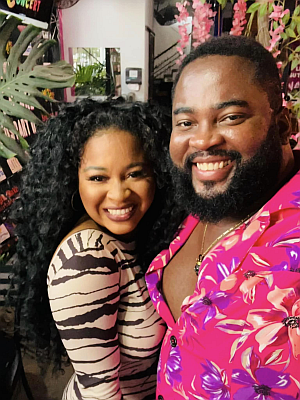 Next up was Dwight Blake, a Singer, Songwriter & Producer from Jamaica, who now calls Mexico home. Dwight has traveled all over the world performing and sharing the stage with headliners like Barry White, The Temptations, Denita Asberry, The Tenors and many others. Accompanying Dwight was a truly extraordinary band of top musicians that included keyboards, drums, percussion, bass and lead guitar.
Al (Mimi) Ramirez stunned the crowd with his fabulous guitar solos. We loved Dwight's smooth and mesmerizing tone as he took us back to the hits of the yesteryears with Get Up Offa That Thing, I Feel Good, Signed, Sealed Delivered, Just the Way You Are, a few Teddy Pendergrass and Barry White favorites, along with the upbeat, Happy, Uptown Funk, Purple Rain and more! Many in the audience enjoyed dancing as Dwight entertained the crowd.
'The Moondancer' as Michael Jackson, next provided a superbly choreographed tribute to the talents of one of Pop's most legendary stars. The Moondancer looked just like the real Michael Jackson with all the dance moves and was accompanied by 3 other amazing dancers. The Moondancer puts on a full Michael Jackson show at ACT2PV on Mondays at 7:30 pm.
The final artist of the evening was Diana Villamonte, who won runner-up on The Voice of Mexico and has been a successful Headliner at Vallarta venues. Diana continues to skyrocket to fame in both Vallarta and beyond. A native of Panama, this beautiful, young woman possesses all the attributes of a rising star in entertainment. Her singing is absolutely breathtaking and her stage presence is phenomenal. Over the past six years, Diana has captivated Puerto Vallarta audiences with her extraordinary shows!
Diana captivated the crowd with extraordinary R&B classics like, How Will I Know?, Ain't No Mountain High Enough, On the Radio, I Will Always Love You, Never Enough, I'm Your Baby Tonight, and the Donna Summer classic, Last Dance. Diana was accompanied by professional dancers and backup singers and her performance was completely astonishing! Watch for updates on Diana's soon-to-be-announced shows in Vallarta.
Soul Fest II was an amazing night of spectacular performances. And when you add in the incredible garden setting of Los Arroyos Verdes, this was a night that Bucerías won't soon forget!
Kudos go out to Dwight Blake for putting together such a breathtaking night of entertainment for the North Shore. I can't wait for Soul Fest III next year!