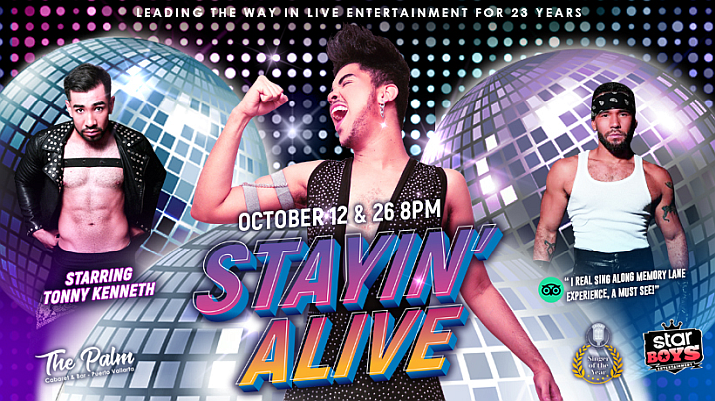 Puerto Vallarta, Mexico – The Palm has launched its new season of entertainment in the Puerto Vallarta Romantic Zone and the shows are once again truly spectacular. On Wednesday nights, the lineup of talent is phenomenal with Tonny Kenneth in Stayin' Alive, and the unbelievably talented Star Boys dancers in their own show, The Star Boys Experience.
Starring Tonny Kenneth, Stayin' Alive is not the typical Disco Show. This show is beyond a disco ball and glitter, dance moves and high notes! This spectacle mixed with theater and storytelling will make you fall in love again with the 70's Golden Era of Disco Music!
This evening of Disco Delight includes favorites like, You Should Be Dancing, You Make Me Feel Mighty Real, I Feel Love, Night Fever, Le Freak, Ring My Bell, Disco Inferno, Last Dance, Bad Girls and many more!
With all live vocals, professional sexy dancers, gorgeous backup singers and all your favorite disco hits, Staying Live brings the Age of Disco back to life!
Brightness, energy, catchy rhythms, dance and powerful voices are key to making disco, more than simply a musical genre. This performance explores the cultural movement that created disco music as reflected in much of the current music that we enjoy.
Let "Stayin' Alive" take you on a roller coaster of music, dance and emotions in an evening of fun entertainment. Don't miss this spectacular Disco Extravaganza on Wednesday, October 12 & 26 at 8:00 pm.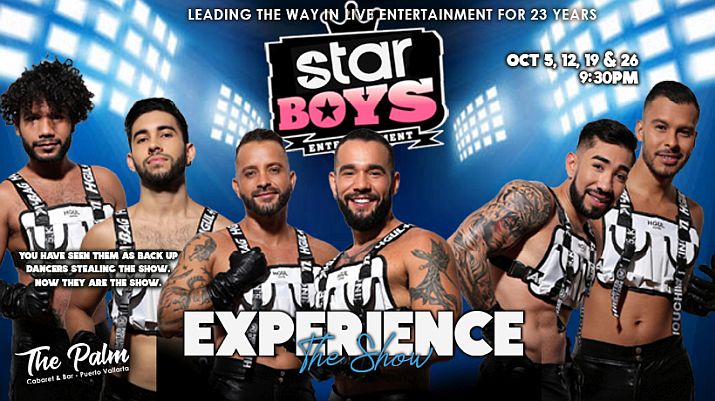 You have seen The Star Boys steal the show as backup dancers in mega-hit shows like This is Gaga, I am Beyoncé, and many more. Now experience these unbelievably talented dancers in their own performance on Wednesdays at 9:30 pm during the month of October at The Palm.
This troupe of handsome young men has the moves, the looks, and the sex appeal to take you on a unique journey, you won't soon forget. Great music, creative and exciting choreography and sexy costumes are sure to make this show a crowd favorite.
Get ready to enjoy an incredible evening of entertainment as these professional dancers put their sensuality, precision and charm into each show. Over the past year, these fantastic performers have gained praise and recognition as dancers in many of The Palm Cabaret's hit shows. Come see them in their own feature performance.
The Star Boys Experience happens every Wednesday at 9:30 pm during the month of October at The Palm. Don't miss this spectacular performance. It's truly one of a kind!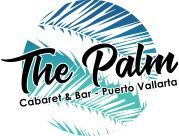 The Palm Cabaret and Bar is located at 508 Olas Altas in the heart of the Puerto Vallarta Romantic Zone. Tickets can be purchased at the venue's box office, which opens daily at 11:00 am, or online at ThePalmCabaret.com.
For more information, click HERE, call (322) 222-0200, visit their website, or follow The Palm Cabaret and Bar PVR on Facebook.