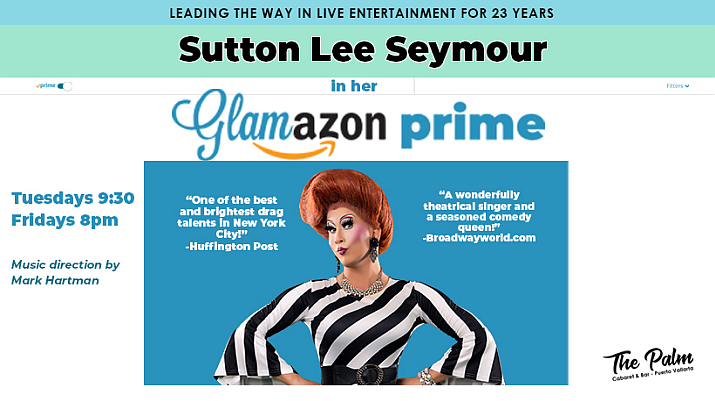 Puerto Vallarta, Mexico – It's her 8th season performing in PV and Sutton Lee Seymour is in her GLAMAZON PRIME! at The Palm Cabaret. This show is a follow-up to her NYC MAC Award Nominated cabaret, DRAGFLIX, spoofing TV Shows, Movies, and Musicals.
In this post-mid-pandemic world, Sutton is taking everything you love and destroying it with camp, comedy, theatrics, and parodies about Jurassic World, Titanic, Schitt's Creek, RuPaul's Drag Race, and MORE… nothing is safe from Sutton's satirical eye! Join her and her DANCING BOYS for a fun night full of live singing, comedy, and DRAG!
No one does musical Excelled parodies better than Vallarta's darling diva of drama and song! Sutton Lee Seymour in all her glory (including impeccable makeup, hair, sequined dresses and stilettos) serves up another fabulous evening of hilarious camp and spectacular vocals. And Alexa is her new computer co-star!
With some delightful, over-the-top enthusiasm, SLS wins over her audience immediately. She serves up her highly entertaining, self-deprecating humor throughout the performance to the utter delight of the crowd. Did I say, crowd? Yes, it was another sold-out performance for Glamazon Prime!
In this season's very popular show, Sutton Lee Seymour belts out favorite tunes with some very creative, sometimes naughty, but always hilarious lyrics! My favorite quote of the evening rings so true for all the world's been going through the past few years. "Only with laughter and liquor will we get through the B.S. of the world!"
The sexy male dancers were definitely another highlight of the performance and SLS flirted with them throughout the night along with some other unsuspecting audience members. Her quick comments and comebacks with the audience led to lots of laughs!
Glamazon Prime is just what we hoped it would be: A night of delicious, musical Excelled parodies, served up by one of the best in the biz! In the words of Sutton Lee Seymour, "You ordered this show and this is what you're going to get!" Thank you, SLS! We loved your new show! You can catch Glamazon Prime every Tuesday at 9:30 pm & Fridays at 8 pm. Purchase your tickets early, because this show is selling out on a regular basis.
"Sutton Lee Seymour is a wonderfully theatrical singer and a seasoned comedy queen!"
– BroadwayWorld.com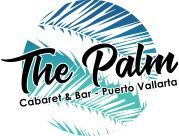 The Palm Cabaret and Bar is located at 508 Olas Altas in the heart of the Puerto Vallarta Romantic Zone. Tickets can be purchased at the venue's box office, which opens daily at 11:00 am, or online at ThePalmCabaret.com.
For more information call 322-222-0200, visit their website, or follow The Palm Cabaret and Bar PVR on Facebook.