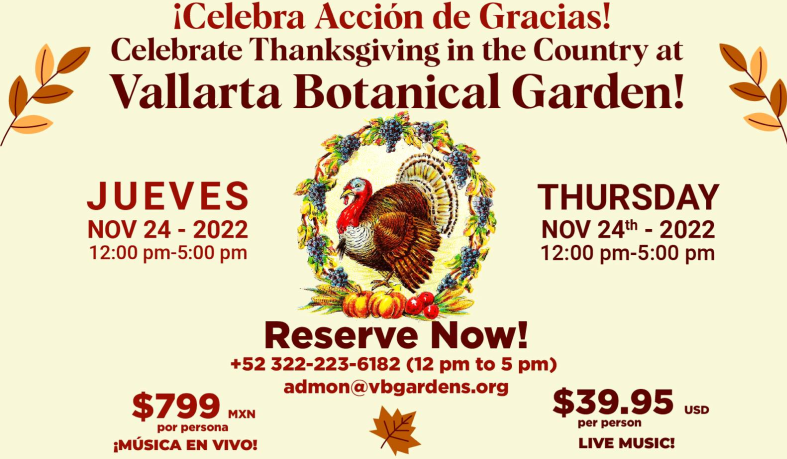 Puerto Vallarta, Mexico – Visiting the Vallarta Botanical Garden is a great way for families to spend quality time together, something that's especially important on holidays. On Thursday, November 24, the Garden will be serving a Traditional Thanksgiving Feast, complemented by live music, from 12:00 until 5:00 pm – for just $39.95 USD per person.
Thanksgiving at the Garden Dinner Menu
First Course
• Piping Hot Rolls and Herbal Butter
• Puréed Sweet Potato Soup
-or-
• Seasonal Garden Salad with Lemon Vinaigrette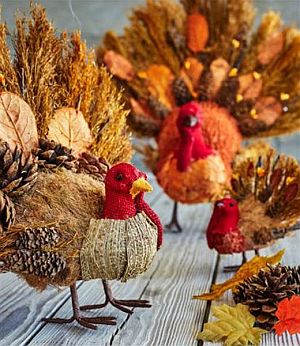 Our Traditional Feast
• Stuffed Roast Turkey with Homemade Gravy
• Mashed Potatoes
• Artisanal Stuffing
• Ginger Glazed Carrots
• Stewed Fresh Cranberries
• Green Bean Casserole
Non-turkey options available
Dessert
Choice of:
• Pumpkin or Pecan Pie with Coffee
Beverages
Choice of:
• 1 Margarita
• 1 Glass of Wine (Chardonnay or Cabernet)
• 1 Soft Drink
• 1 Hibiscus Tea
• 1 Lemonade
All for just $39.95 USD ($779 Pesos) per person! Tip not included.
Please Note: Entrance to the Garden is free for members, $200 pesos per person for non-members. Corkage fee of $500 MXN per bottle for those who bring their own wine.
So, if you are wondering how you are going to celebrate Thanksgiving this year, gather up your family and come out to the Vallarta Botanical Garden and do something healthy and fun together. Before or after dinner, you can explore the Garden's 74 acres of natural wonders and breathe in some fresh air, while keeping a distance from others.
Seating is limited, so reservations are highly recommended. Make yours TODAY by emailing admon(at)vbgardens.org, or calling 322-223-6182.
Visit the internationally famous Vallarta Botanical Garden located just 30 minutes south of Old Town at Km. 24 on Highway 200 and easily accessible by public transportation and taxi. This 74 acre wildlife preserve and botanical garden have something fun for everyone. Over 200 species of birds have been observed on the Garden's grounds. Don't forget to bring your swimsuit for a refreshing dip in the jungle river. See plantings of vanilla, chocolate, and hundreds of other botanical delights! The Garden is open daily from 9 am to 6 pm. Garden admission is just $200 pesos. For more information, call (322) 223-6182 or visit vbgardens.org.


Click HERE to learn more about Vallarta Botanical Gardens.