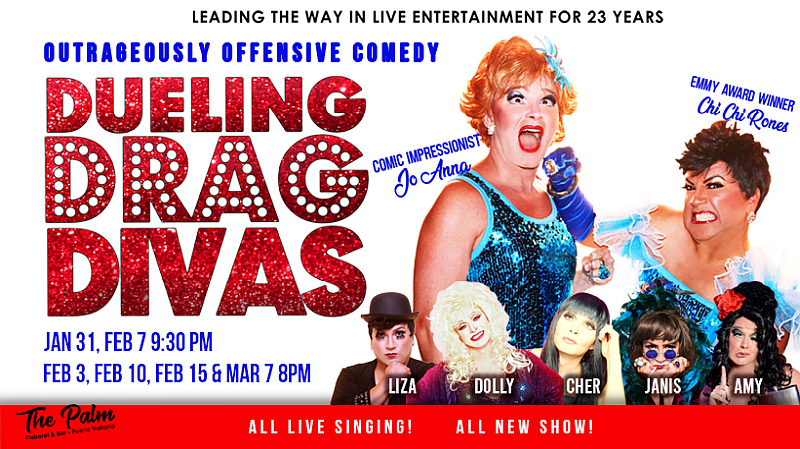 Puerto Vallarta, Mexico – The dynamic duo, the Dueling Drag Divas, starring Emmy Award Winner Chi Chi Rones, and New York Times-acclaimed impressionist, Jo Anna, are returning to Puerto Vallarta, where they will perform an All New Show at The Palm Cabaret for 6 shows only beginning Jan 31st at 9:30 pm.
Both professional drag artists in their own right, Chi Chi and Joanna joined forces in Puerto Vallarta 10 years ago and their show, Dueling Drag Divas, instantly became a smash hit and audience favorite!
This Dueling Drag Divas will perform hilarious spoofs of Cher, Aretha Franklin, Dolly Parton, Liza Minnelli, Amy Winehouse, Lizzo, Janis Joplin, Judy Garland, and more!
Both Chi Chi and Joanna sing LIVE with their own voices (no lip sync) and both have soaring ranges. Their infamous and uncanny celebrity impersonations will leave you rolling in the aisles. This season their show features everything from pop to rock to jazz standards.
JoAnna is celebrating her 17th season in Vallarta! Starting out in NYC, she has won numerous awards, including "Best Patsy Cline Singer" at the Cowgirl Hall of Fame. The New York Times hails her as "One of the Best." In addition to PV, JoAnna has enjoyed 6 successful seasons in Provincetown and 12 summers in Ogunquit, Maine.
Emmy Award Winner Chi Chi Rones is thrilled to be back in Vallarta for an 11th season! She is excited to be debuting this all-new show. Chi Chi has toured extensively throughout the USA and around the globe. In addition to their winter seasons in Puerto Vallarta, the Dueling Drag Divas just completed their 12th season at their summer residence at Mainestreet in Ogunquit, Maine.
This year's Dueling Drag Divas show is full of surprises with numbers written and tailored specifically for the characters they perform. Always fresh and current, they bring new material to their audiences each season that keeps their Vallarta fans in stitches.
What started out on a whim has turned into an extraordinary show with sold-out performances worldwide. The Divas are back with their incredible singing, comedy, parodies and fabulous costumes! Totally unique and entertaining, this is definitely a show you'll want to see!
Dueling Drag Divas opens at The Palm Cabaret on January 31st at 9:30 pm. Additional shows are on Feb 7 at 9:30 pm and Feb 3, 10, 15 & Mar 7 at 8 pm. Their shows sell out most of the time, so purchasing tickets in advance is suggested.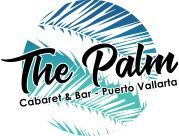 The Palm Cabaret and Bar is located at 508 Olas Altas in the heart of the Puerto Vallarta Romantic Zone. Tickets can be purchased at the venue's box office, which opens daily at 11:00 am, or online at ThePalmCabaret.com.
For more information call 322-222-0200, visit their website, or follow The Palm Cabaret and Bar PVR on Facebook.