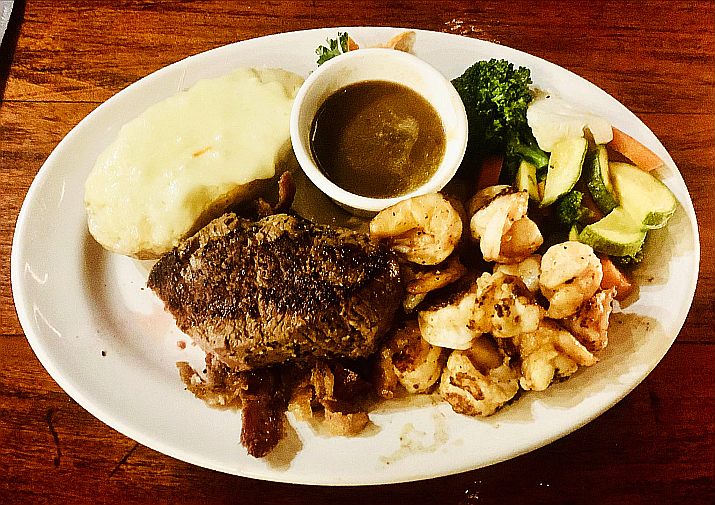 Puerto Vallarta, Mexico – After weeks of reviewing restaurants that were new to me, this week, I decided to return to one of my all-time favorite restaurants: Langostinos. Nestled on Los Muertos Beach, this culinary gem has been captivating diners for over a decade.
With its irresistible charm and enviable location, Langostinos quickly became my go-to spot for all sorts of celebrations, from happy hours to heartfelt occasions like weddings and memorials.
But as life took its twists and turns, my culinary adventures took a pause when the pandemic descended upon Puerto Vallarta. Now, with the city roaring back to life, I knew it was time to revisit Langostinos and see if the passage of time had treated it kindly.
As soon as we stepped through the doors, we were greeted with warm smiles from familiar faces: our ever-attentive server Jorge, a stalwart presence since the restaurant's early days, and the gracious owner, Colette Zary.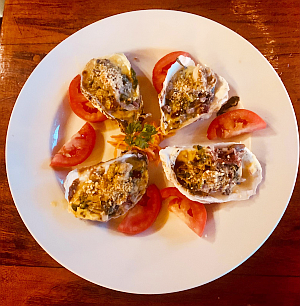 To kick off our meal, we indulged in their exquisite Oysters Rockefeller ($220 pesos). A rarity on most menus in PV, Langostinos has mastered this classic dish. Six plump oysters bathed in a creamy spinach and cheese sauce and crowned with a crunchy breadcrumb topping. Note: There are only four in the photo since I couldn't wait to eat them before taking the picture. I asked them to add bacon, which made it perfect. In fact, the flavors were even better than I remembered, leaving me eager to order a dozen on my next visit.
As we continued, we decided to share the Ensalada Grecia ($205/$130 pesos). Opting for the larger serving size, it is more than enough for two people. All of the ingredients were fresh, and the feta cheese was plentiful. Yet, I felt the dressing lacked a certain spark, yearning for an infusion of vibrant herbs, a touch of Dijon, and a zestful kick.
For my main course, I chose the Pescado del Dia ($225 pesos), a delectable Mahi Mahi sautéed in garlic butter, accompanied by a medley of steamed vegetables and rice. Being a devoted garlic fan, I requested an extra dose, and boy, did Langostinos deliver. A dish commonly found on PV menus, their rendition excels above many. However, I couldn't help but wish for a bit more creativity with the sides, as they seemed to mirror those found throughout town.
Meanwhile, my partner ventured into surf and turf land, opting for the Camarones con Filete Mignon ($440 pesos). This was the true star of the evening. A thick, tender filet, cooked to a perfect medium-rare and bathed in a savory mushroom sauce, took center stage. Accompanying the filet were succulent shrimp, sautéed in garlic butter as per our preference, a twice-baked potato, and veggies. The flavors blended beautifully, especially considering the incredible value at this price point.
This visit rekindled a desire to return to Langostinos more frequently. The ambiance, perpetually inviting and often serenaded by solo musicians, creates an atmosphere that captures the essence of a perfect evening. Langostinos is the ideal spot to sit, have a glass of wine, and watch the magical hues of a Vallarta sunset.
I give Langostinos:

Playa de los Muertos, Manuel M. Dieguez 109, Zona Romántica, Emiliano Zapata, 48380
Open Daily: 8 AM—11 PM
Happy Hour Daily: 5 PM—7 PM; Half-Price Drinks
Reservations: 322-222-0894
I welcome your comments or suggestions of restaurants to try at thehungrycriticPV(at)gmail.com.
Click HERE to read more Puerto Vallarta restaurant reviews.