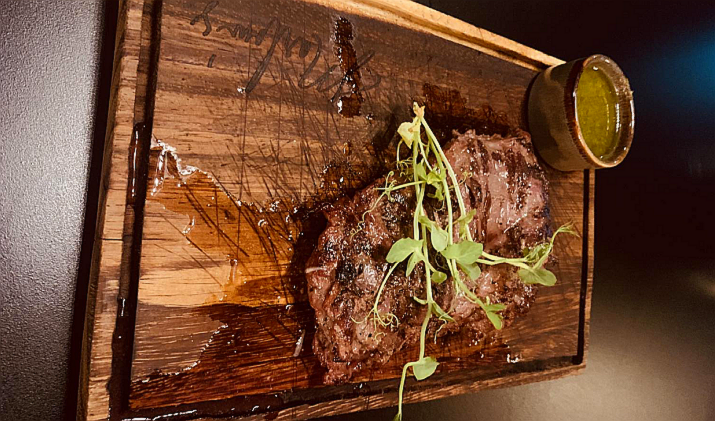 Puerto Vallarta, Mexico – When we chose Marlow's as this week's outing, I did not realize that it was owned by Roberto Castellon, one of Vallarta's restaurateur legends, most notably of Roberto's Seafood, formerly located just two doors down from his newest adventure.
This is perhaps the smallest of the restaurants I have reviewed so far, with seating for twenty inside and two tables for two on the sidewalk. Yet, it takes advantage of every inch, with a stylish décor that befits its upscale menu. It is reminiscent of those dark American high-end steakhouses with richly upholstered chairs and chandeliers.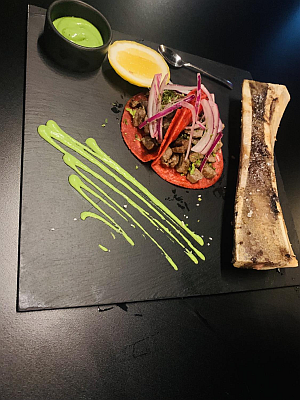 Chef Jonathan has created an eclectic fusion-style menu with Mexican, Asian, Italian, and American influences. There are a few vegan and vegetarian options, although most of the menu focuses on meat and seafood.
After some freshly baked focaccia bread with bacon butter (OMG), we began with the Vietnamese Roll ($90 pesos). Its nod to Mexican fusion went a little too heavy on the avocado to my liking, but a particularly tasty peanut sauce I rarely get in PV saved it.
It was far eclipsed by the Rib Eye and Bone Marrow Tacos ($250 pesos). I'm a huge fan of bone marrow, and I was pleasantly surprised when the tacos were served with the bone on the side, with a generous amount of bone marrow for the two tacos or to enjoy alone. The blue corn tacos were stuffed with tender rib eye morsels, pickled red onion, cilantro, and a perfect chili sauce.
For our entrees, we passed on the USDA Prime Rib Eye Cap and Rib Eye Filet ($1,200 pesos), which were presented to us before we ordered. I like this way of seeing it first, ala Sonora Prime, but the price was beyond this author's budget. So instead, we chose the Vacio Beef Steak ($650 pesos), akin to flank steak but unlike any I had ever seen. It was a thick cut, incredibly tender, and amazingly flavorful. It is served on a wooden plank with a separate beautiful presentation of sauteed vegetables on the side.
My partner selected the House Made Linguini ($250 pesos) with Formaggio cheese and zucchini flower. This was the perfect accompaniment to the steak that we both shared. We often share entrees here in Puerto Vallarta – it leaves room for a second appetizer or dessert.
So far, Marlow's has won our reviews' most creative presentation award. The stunning dark plates frame the cuisine's colors atop them and bring the whole design concept of the restaurant together. As you probably realize by now, I'm a dirty martini fan, and I'm happy to report that Marlow's serves theirs with both olives and cocktail onions. We also saw this extra touch in the expert attention of their service staff.
I give Marlow's:

Basilio Badillo 277, Zona Romantica
Open Tues-Sunday: 5pm to 11pm
Reservations: marlows-pv.com
I welcome your comments or suggestions of restaurants to try at thehungrycriticPV(at)gmail.com.
Click HERE to read more Puerto Vallarta restaurant reviews.