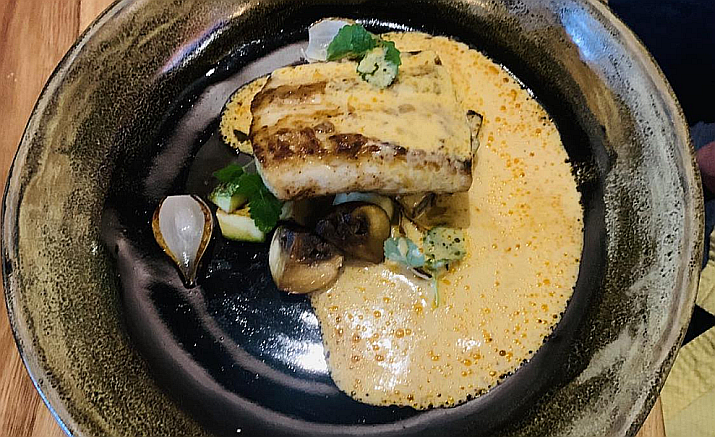 Puerto Vallarta, Mexico – Prepare to be whisked away on a culinary adventure at Makal! From the moment you set foot in this contemporary restaurant, adorned with a captivating mural by the renowned PV artist Misael, you know you're in for something special. The vibrant atmosphere exudes a hip, Mexico City vibe, attracting a well-heeled blend of locals and tourists seeking an extraordinary dining experience. Chef Diego Guerrero's menu pushes the boundaries of flavor, tantalizing your taste buds with its intriguing descriptions and innovative ingredients.
My anticipation was high as I embarked on my culinary journey at Makal, but alas, the evening fell short of my lofty expectations, at least in terms of the dishes we selected.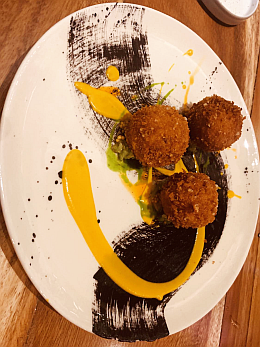 The evening began auspiciously with a complimentary home-baked cloverleaf roll, fresh out of the oven, and creamy butter. Encouraged, I opted for the Chicharron Bites ($260 pesos) as my starter. These crispy spheres were presented like edible works of art, adorned with delicately painted cilantro emulsion and tantalizing tomatillo drizzles. However, their taste left me somewhat perplexed, as they resembled fried cheese balls more than the delectable chicharron I had envisioned. Tasty, yes, but not quite what I had imagined. As a chicharron aficionado, I yearned for the familiar essence that seemed to be missing.
My partner chose the Confit Duck Quesataco ($235 pesos), two artfully displayed blue corn tacos. Yet, despite its flavorful composition, the various elements merged into a pleasant, yet not-so-memorable, presentation. There were mixed reviews on this one. My partner liked it much more than I did.
Next up was the Oxtail Terrine ($480 pesos) in a delectable Adobe sauce. The idea of trying oxtail in PV was enticing. The terrine was a small, dense round of finely minced meat, somewhat reminiscent of BBQ beef brisket. Although it was flavorful, it was a bit underwhelming, given its price point.
But fear not, for there was a glimmer of hope in our last entrée – the Catch of the Day ($435 pesos). The Mahi Mahi was incredibly fresh, and its melt-in-your-mouth tenderness reignited my enthusiasm. Accompanied by an enchanting ensemble of chipotle beurre blanc, succulent mushrooms, zucchini, chili oil, and charred onions, this dish truly stole the show. Superior preparation of seafood in Puerto Vallarta separates good restaurants from great ones. In this case, it was great.
Despite my mixed feelings, I refuse to let one less-than-stellar experience define my opinion of Makal. The dedication, passion, and unruly creativity poured into this establishment demand another chance. In fact, I'm already planning my return to explore the uncharted depths of the menu, confident that hidden treasures are awaiting discovery. So, stay tuned for my future update as I continue my quest to discover the full potential of Makal's culinary prowess.
I give Makal:

Lazaro Cardenas 311, Zona Romántica, Emiliano Zapata, 48330
Open: 6 PM to 11 PM, Tuesday to Sunday
Menu: makalgastronomia.com
Reservations: 322-354-9878
I welcome your comments or suggestions of restaurants to try at thehungrycriticPV(at)gmail.com.
Click HERE to read more Puerto Vallarta restaurant reviews.