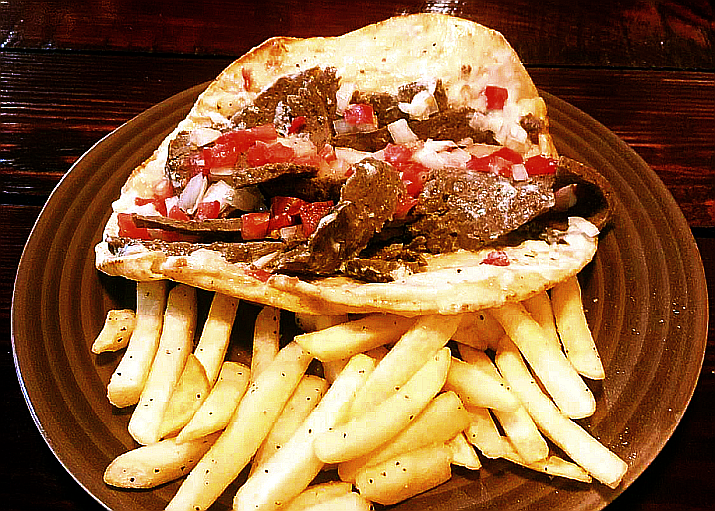 Puerto Vallarta, Mexico – I can't believe this good ole' Southern boy hadn't made it to Greasy Gourmet before now. It's just a stone's throw from Emiliano Zapata Mercado in East Old Town.
Kudos to whoever thought of that memorable name. Although, I must admit, nothing we tasted was greasy. Their tag line is Elevated Comfort Food, and the menu speaks with an intriguing variety. It's like someone said, "let's just put all our favorites on it."
We started with the Beet Salad ($145 pesos). Quite a few Puerto Vallarta restaurants have this on their menu, and this one was everything it was supposed to be, but it didn't quite hit the mark for me. A bed of field greens were topped with goat cheese and ringed with rather limp beets. It was tossed in a dressing that needed a little more kick to my taste. Don't get me wrong – it was good, just not memorable. I think I'll try their Pear & Blue Cheese Salad next time.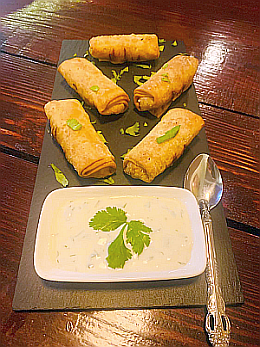 Next came the Buffalo Chicken Egg Rolls ($125 pesos). Although I would have liked a fatter egg roll, these were delicious, crispy, and served with a creamy cilantro ranch dressing and a Frank's-type hot sauce.
This restaurant is open from 1:00 to 9:00 pm, so its menu serves both lunch and dinner. It has a definite nod to our Canadian amigos with Poutine and our next course, the House Especial, Donair. Tender spiced beef, onion, and tomato are layered on a warm pita and drizzled with a sweet garlic sauce. I was particularly fond of that sauce. It was served with perfectly cooked French fries (once again, not greasy). There was something magical about how all those flavors came together in this dish.
I was a little surprised to see a selection of pizzas as a prominent feature of the menu. But I knew why once I tasted the crispy personal-size Meat Lovers straight out of their pizza oven. Perfect crust, and even my leftovers were tasty this morning.
I loved the atmosphere of this eclectic room. The kitchen is nicely visible at the back of the restaurant, as is the bar. There is another odd bar-like counter in the front that I might guess will be ejected for more seating as this venue starts having guests line up outside the door.
It's hard to capture in a few words, but "a rustic diner" comes to mind. The bar prices are reasonable, and the pours are good, although the choices are still a work in progress. Our waiter/bartender was extremely friendly, as was the chef/owner. He built this place from scratch, designed the menu, is the main chef, and is truly a one-man band at this little gem.
I give the Greasy Gourmet:

Lazaro Cardenas 534 – Zona Romantica
Open Wed-Sun 1:00-9:00 PM
Reservations: Facebook Messenger
I welcome your comments or suggestions of restaurants to try at thehungrycriticPV(at)gmail.com.
Click HERE to read more Puerto Vallarta restaurant reviews.