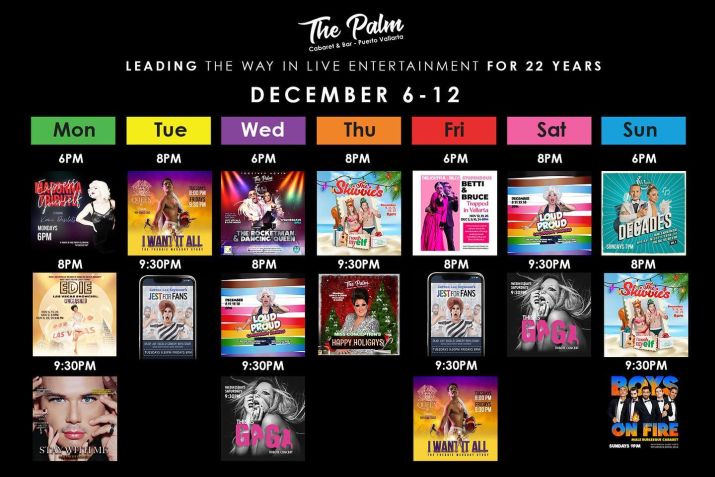 Puerto Vallarta, Mexico – Miss Conception is back at The Palm Cabaret with her traditional holiday show, Happy Holigays, on Mondays at 8:00 & 9:30 pm and Thursdays at 9:30 pm starting December 9th.
With brand new live singing numbers and costumes by Jose Luis Casillas Chavas, Miss Conception will get you in the Christmas spirit with classic songs and some naughty songs to leave you laughing your buns off.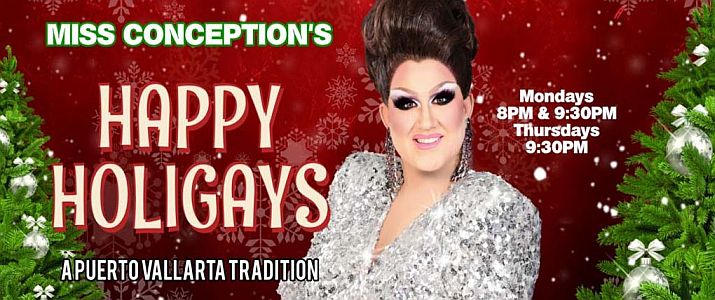 Miss Conception's Happy Holigays show is a Puerto Vallarta tradition. Packed full of comedy, dance, classics and costume changes before your eyes, this show will leave you laughing and put you in the holiday spirit. This is a limited run so don't miss out on this fabulous performance.
Kevin Leveque created his lovable, energetic character, Miss Conception, over 20 years ago and has been selling out shows around the world with 'live singing' shows ever since! The creativity that goes into each of Miss Conception's shows is impressive! The costumes, the original themes, the parodies, the singing, the drama, the side-splitting comedy are all a recipe for a spectacular entertainment experience!
Everyone always seems totally into Miss Conception's performances from start to finish. When you see contagious smiling, laughing and spell-bound attention, you know that Miss Conception has once again hit that 'sweet spot' with her audience. I have totally fallen in love with 'Miss Conception and I think you will too! Her live singing shows continue to keep audiences howling with laughter and Happy Holigays is the perfect way to enjoy this festive season.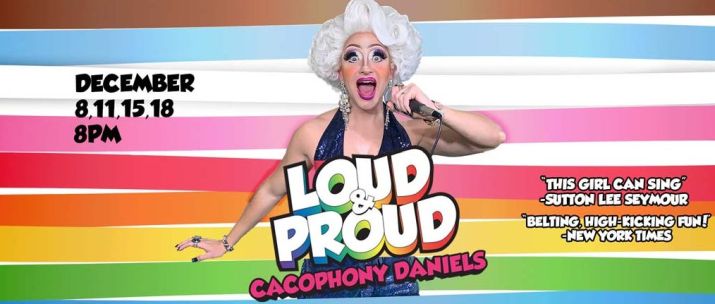 The Palm Cabaret welcomes Drag Star Cacophony Daniels to its stage in 'Loud & Proud' on December 8, 11, 15 & 18 at 8:00 pm.
Cacophony Daniels is a live-singing drag Darling and the internationally-proclaimed 'Queen of Screlt.' She's toured internationally with Atlantis Events, performing her cabarets, 'Wanna Bette? her tribute to Bette Midler and 'Under the C' her tribute to the late Howard Ashman, for which she received a 2017 Bistro Award.
You will love the amalgamation of sounds that this singing Diva delivers in her incredible show. Her vocals are absolutely breathtaking and her humor is priceless!
Cacophony Daniels is well-known as the co-host along with Sutton Lee Seymour and Paige Turner of the weekly Broadway Mondays at Hardware Bar in NYC. You may also have seen Cacophony as the prissy 'Queen Bee' on The Mysteries of Laura opposite Debra Messing on NBC.
Her alter-ego, actor and singer Courter Simmons, has appeared on Broadway and on the 63rd Annual Tony Awards in 'Jersey Boys.'
This Girl Can Sing! – Sutton Lee Seymour
Belting, High-Kicking Fun! – New York Times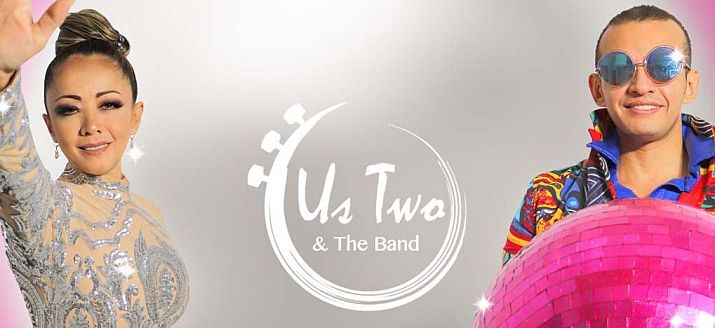 The Palm Cabaret is thrilled to welcome Vallarta's favorite musical duo, Us Two to its entertainment roster this season. Their show, Decades which is offered every Sunday night at 7 pm, has been highly praised by audiences and starting Wednesday, Dec. 8th at 6 pm, Us Two is set to present another dazzling show, Rocket Man/Dancing Queen, featuring the music of Elton John and Abba.
Us Two continues to give Vallarta audiences a high-energy, nightclub act that brings back musical memories in the most exciting, entertaining way imaginable. Daniel Celis and Noemi Plascencia and their live band expertly present a musical and visual medley complete with great costume changes, impressive visual lighting effects and imagery in a fun, fast-paced musical trip down memory. Audiences absolutely love the high-quality shows that Us Two has been delivering to Vallarta audiences over the years.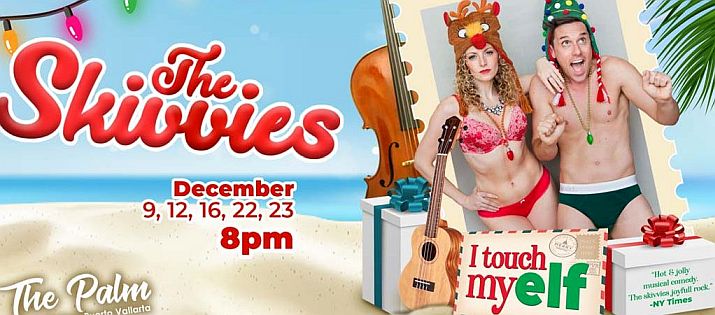 Joining The Palm's holiday shows are The Skivvies in I Touch My Elf. Known for their comedy/singing shows, The Skivvies return to Vallarta with a hilarious seasonal spoof filled with good cheer and great entertainment. The Skivvies are Nick Cearley and Lauren Molina, American singer/musician/actors, who perform "stripped down" arrangements of popular songs, and original tunes while stripping down to their underwear. You can catch the show on December 9, 12, 16, 22 & 23 at 8 pm.
Tickets for all shows can be purchased at the venue's box office at Olas Altas 508, or online at ThePalmCabaret.com. For your safety, the venue has added ventilation, social distancing, masks and reduced capacity. This means you can feel comfortable while enjoying all of the great performances at The Palm.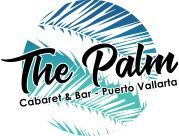 The Palm Cabaret and Bar is located at 508 Olas Altas in the heart of the Puerto Vallarta Romantic Zone. Tickets can be purchased at the venue's box office, which opens daily at 10:00 am, or online at ThePalmCabaret.com.
For more information, click HERE, call (322) 222-0200, visit their website, or follow The Palm Cabaret and Bar PVR on Facebook.