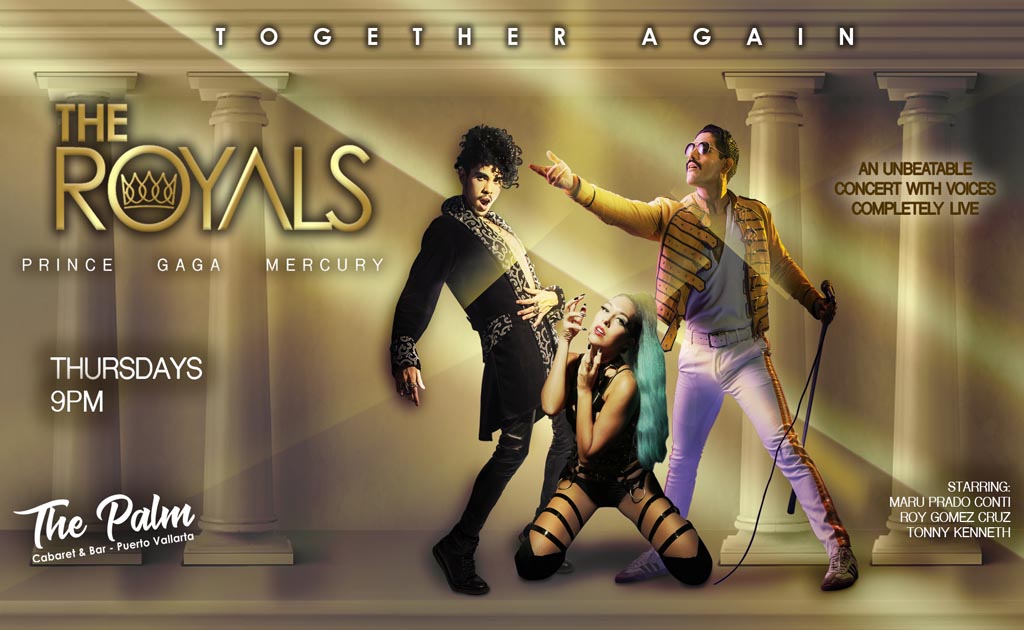 Puerto Vallarta, Mexico – Freddy Mercury (Roy Gomez Cruz), Lady Gaga (Maru Prado Conti) and Prince (Tonny Kenneth) have combined talents once again to present another blockbuster performance. The Royals will appear every Thursday night at 9 pm at The Palm Cabaret and Bar.
Known throughout Vallarta as One of the Best performances last Spring, The Royals returns superbly portraying 3 icons on 1 stage. These amazing tribute artists bring their thrilling energy, songs, costumes and choreography to the stage along with new songs and material that has been added to this year's show! Don't miss 'The Stars Tribute Concert' that was so popular with Vallarta audiences last season.
Roy Gomez Cruz had already been part of three successful Queen Tribute shows before he headlined Queen Live Forever at The Palm Cabaret last season. He has fully immersed himself in artistic creation and performance, hoping to eventually become an artistic director/producer of shows that recognize Mexican talent in the international arena. From a musical family, Roy grew up loving the band Queen and knew all their music. He enjoys the raw emotion and drama of portraying an artist like Freddie Mercury.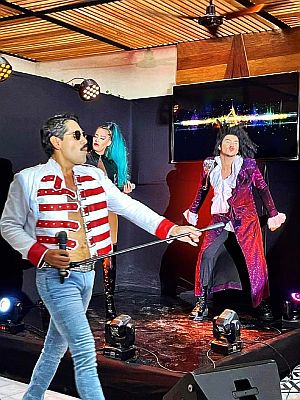 Maru Eugenia Prado Conti, from Rosario, Argentina, has performed in musical theater, participating in The Beauty and the Beast in Buenos Aires, as well as other musical theater productions. Maru is also a vocal coach and has a company called "Tu Experiencia Broadway," through which she takes students to NYC for 15 days and trains them in singing, dancing and performing with coaches and stars from Broadway. Maru decided to create her This is Gaga Tribute out of enormous respect for Lady Gaga as one of the most multi-talented entertainers of our time. Maru admires Gaga for her amazing singing, songwriting, acting and iconic support of the LGBTQ community.
Tonny Kenneth is originally from Panama, where his career as a singer, songwriter & producer began. He was the lead singer in a popular rock band called "BlessNight" which opened for Shakira & Bryan Ray. He won KWC Panama and went to represent his country in a Finland talent competition placing in the top 10. From there he won "Singer of The Year" in Los Angeles at an iPop convention. In 2019 he traveled to Puerto Vallarta as part of Dream Voice and immediately found his way into the music scene here.
I've been reviewing Vallarta shows for over 8 years and I can sincerely share that The Royals is one of the very best shows that I've ever experienced in Vallarta… or anywhere else! From the background videos of the original artists to the special effects, gorgeous costumes, vocals and choreography to the audience's enthusiasm and interaction, The Royals is a complete entertainment experience that you won't want to miss!
The Royals will leave you begging for more. Every solo performance is top-notch and the duets and group numbers are incredible. The show includes many of the hit songs that we love from these iconic stars.
You'll experience winning performances from each tribute artist that will leave you breathless, like Bad Romance, Radio Gaga, Purple Rain and a final number with all three artists that thrills to the core! To quote a famous song, "I liked It, I Loved It, I Want Some More of It."
For your safety, the venue has added ventilation, social distancing, masks and reduced capacity. This means you can feel comfortable while enjoying all of the great performances at The Palm.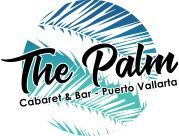 The Palm Cabaret and Bar is located at 508 Olas Altas in the heart of the Puerto Vallarta Romantic Zone. Tickets to all shows can be purchased at the venue's box office, which opens daily at 10 am, or online at ThePalmCabaret.com.
For more information, click HERE, call (322) 222-0200, visit their website, or follow The Palm Cabaret and Bar PVR on Facebook.