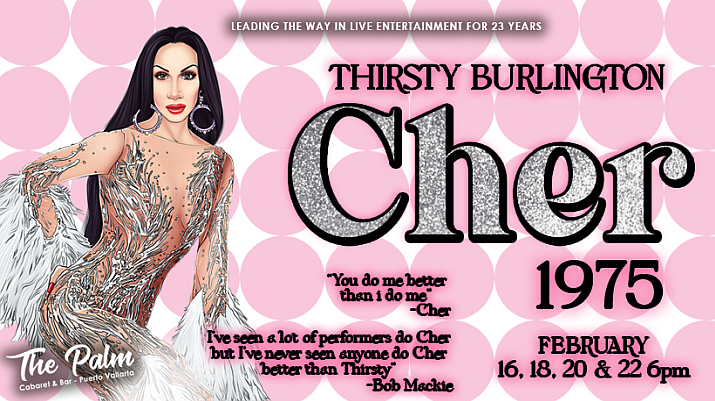 Puerto Vallarta, Mexico – Thirsty Burlington debuts her tribute to 1975's Cher at The Palm Cabaret on February 16, 18. 20 & 22 at 6 pm. For 30 years, Thirsty Burlington has entertained as her own drag persona and also portrayed a variety of characters.
But it is definitely her impersonations of Cher, with all live vocals, that always pack houses and thrills audiences, including famed fashion designer, Bob Mackie, who has had Cher as his muse. In Provincetown Magazine in 2016, Bob noted, "I've seen a lot of performers do Cher, but I've never seen anyone do Cher better than Thirsty."
Thirsty Burlington is still a top Drag Performer and you'll love her new show, Cher 1975. This tribute takes audiences back to one of Cher's heydays, the mid-1970s and the Golden Age of the Variety Show. And while it's a solo show, Cher 1975 is structured like a TV show, with vintage commercials and all.
Burlington hits all the nuances of Cher, but it is when she sings, it's truly amazing how much she sounds like the pop star. Burlington delivers popular hits like Dark Lady, Take Me Home, and Rhinestone Cowboy. And with authentic costuming, as well as her long, dark hair and makeup, Burlington looks very much like Cher.
You don't have to be a diehard fan of Cher to enjoy this show, as it's very entertaining and appeals to a wide audience. Burlington successfully beat cancer this past year and came out of that experience determined to return to where she belongs: on the stage and in the spotlight.
Thirsty Burlington's 1975 Cher happens at The Palm Cabaret on February 16, 18, 20 & 22 at 6 pm. Even Cher, herself is a fan, saying, "You do me better than I do me." With only 4 shows, make sure to get your tickets to this incredible performance right away!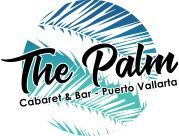 The Palm Cabaret and Bar is located at 508 Olas Altas in the heart of the Puerto Vallarta Romantic Zone. Tickets can be purchased at the venue's box office, which opens daily at 11:00 am, or online at ThePalmCabaret.com.
For more information call 322-222-0200, visit their website, or follow The Palm Cabaret and Bar PVR on Facebook.