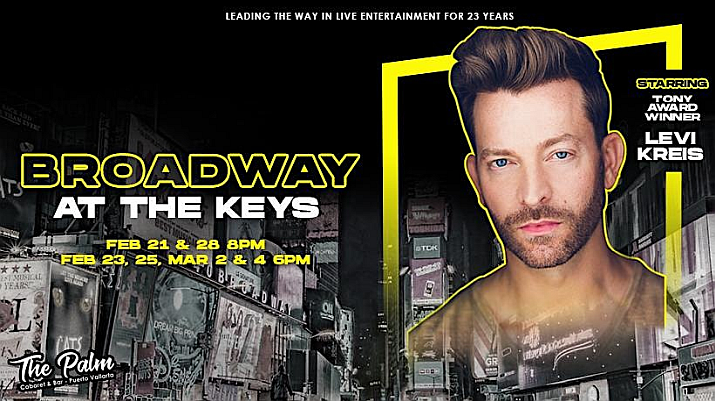 Puerto Vallarta, Mexico – Tony Award Winner Levi Kreis is coming to The Palm Cabaret and Bar in Puerto Vallarta for 6 performances of 'Broadway at the Keys' between February 21 and March 4.
Infusing Broadway classics with jazz, gospel, country and rockabilly, Kreis' musical perspective is completely original and absolutely flawless. His storytelling and comedic timing will have you in stitches while his ability to embody a song will bring you to tears.
Levi Kreis is one of the most honest communicators you will ever find. He executes his craft with profound vulnerability, a soulfulness that leaves you feeling as though you've experienced something deeply personal with him. He is committed to presenting the highest quality of entertainment, but the one thing people value most about Levi is how he makes them feel.
To Kreis, art is a real-life conversation that is healing, as much as it is entertaining. Levi says, "I see art as an opportunity to convey something deeper, something spiritual. When you touch an audience at this level, they remember it forever."
Levi is best known for originating the role of Jerry Lee Lewis in Broadway's Tony-nominated musical, Million Dollar Quartet. The role won Levi the 2010 Tony Award for "Best Featured Act in a Musical," a 2010 Outer Critic's Circle Award, and a 2010 Drama League nomination. Other notable stage credits include Violet, Smokey Joe's Café, and the national tour of Rent.
In film, Levi is best known for his role as "Fenton", Adam's (Matthew McConaghey) brother in Bill Paxton's directorial debut, Frailty (2001). Levi began his acting career with this film and returned to the big screen in 2017 with roles in The Divide and A Very Sordid Wedding.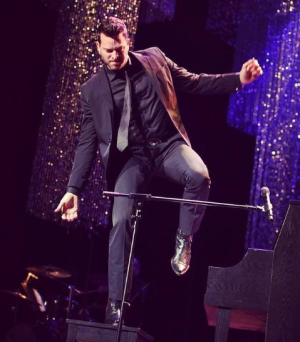 Today, Kreis is a singer/songwriter whose piano pop records have been featured on network television shows, including The Vampire Diaries, Sons of Anarchy, So You Think You Can Dance, Mob Wives, The Apprentice, Days of Our Lives, Young and the Restless, and several films.
With ten albums to date, and a 2009 OutMusic Award for "Stained Glass Window," (the theme song for the Del Shores film, Southern Baptist Sissies,) Kreis has released ten albums under his own record label Vision 9 Records, gaining top ten positions on various charts, #1 music videos and several national tours.
Levi Kreis will be performing 'Broadway at the Keys' on February 23, 25 and March 2 & 4 at 6 pm, and on Feb 21 & 28 at 8 pm at The Palm Cabaret and Bar in Puerto Vallarta. Don't miss this unique and intimate evening from one of Broadway's Tony award winning talents, get your tickets TODAY at ThePalmCabaret.com.
"The charisma of Kreis's performance makes each song wholly accessible, allowing listeners to bask in the power and majesty of each beloved lyric and melody." – BroadwayWorld.com
"Speaking of the Great White way, you haven't heard Sweeney Todd's Not While I'm Around, Pippin's Corner Of The Sky or Aladdin's Friend Like Me till you've heard them sung Kreis – style with piano arrangements so rich, you won't miss a full orchestra, not even for a second." – StageSceneLA.com
"Effortless comedic timing and dazzling piano chops!" – Huffington Post
"A star ready to pop, Kreis tears up the stage!" – The Chicago Tribune
"Brilliant" – New York Magazine
"Levi Kreis is a rock star with an electric sound and vibe! He channels sex appeal and displays vocal abilities that just astonish." – Broadway World
"To watch Levi play the piano is like watching somebody speaking in tongues." – Lou Brutus, SiriusXM Radio.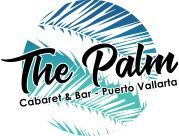 The Palm Cabaret and Bar is located at 508 Olas Altas in the heart of the Puerto Vallarta Romantic Zone. Tickets can be purchased at the venue's box office, which opens daily at 11:00 am, or online at ThePalmCabaret.com.
For more information call 322-222-0200, visit their website, or follow The Palm Cabaret and Bar PVR on Facebook.