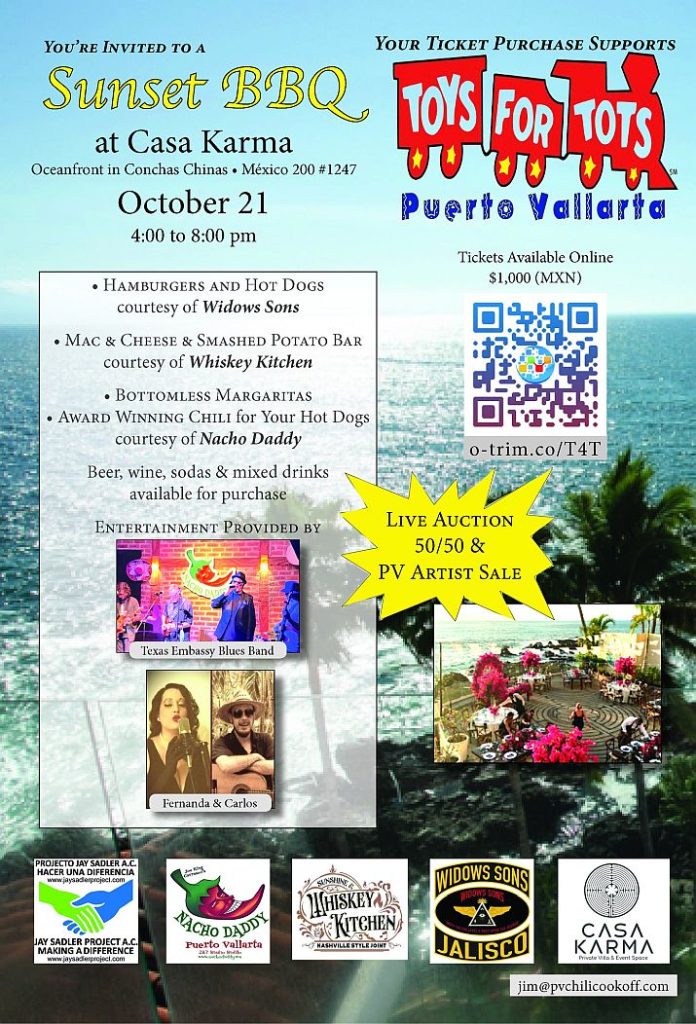 Puerto Vallarta, Mexico – A Sunset BBQ to raise the necessary funds to jump-start the next round of funding for Toys for Tots Puerto Vallarta is set to take place at Casa Karma on Saturday, October 21, 2023. If good eats, drinks, and music are not enough to entertain you for an afternoon there will also be a Puerto Vallarta Artists' Sale and a live auction.
Our Sponsors Fill the Table
Widows Sons Jalisco are united by the Masonic fraternity of Mexico, but also by the intention of doing something for society. Riding their motorcycles, they travel the country bringing joy and health to hundreds of children and people in need. Widows Sons will be providing hamburgers and hot dogs for the feast.
Whiskey Kitchen: Southern comfort food in Puerto Vallarta. Specializing in fried chicken, smiles, and whiskey. Whiskey Kitchen will provide a smashed potato and macaroni & cheese bar with all the trimmings.
Nacho Daddy is an authentic Mex-Tex restaurant and Sports Bar, serving up mouth-watering Mex-Tex dishes and all the sports you can watch. Nacho Daddy will bring their award-winning chili to top off your hot dogs as well as a bottomless margarita bar.
Local Artisans Offer Crafts at Very Agreeable Prices
Georgia Powell is a ceramic artist, originally from Australia, whose work is profoundly shaped by the rich cultural tapestry of her new home in Mexico. Drawing inspiration from the organic beauty of the landscape, her creations exude a raw and honest essence. Georgia weaves together the heritage of her surroundings into diverse ceramic forms that celebrate the beauty of imperfection and the authenticity of her artistic journey. Her creations stand as a testament to the transformative power of embracing a new environment, inviting admirers to immerse themselves in a world where beauty is found in the unrefined and the natural.
Kathleen Palmer of Deja New Consignment is well known for her compassion in fashion. She is a beloved, successful businesswoman in Vallarta who once believed she had no creative ability. Her new endeavor, Deja New Dyes Wearable Art designs are intended to inspire, and instill confidence in others, to be 'Hippie Chic'. Passion is a word to describe this woman on fire. She once believed herself to have no ability to create but once she found tie-dye there was no turning back! A perfect fit for her fashion sense, her clothing know-how, her passion for color, and comfortable clothing.
Karen Kelleher Carneiro's mixed media-themed memory/jewelry boxes and trays are inspired by nature, travel, and cultural experiences. Her colorful charcuterie boards and trays are created with resin and embedded elements such as geodes, photographs, leaves/flowers, and writings.
…and a Live Auction Too!
In addition to donated items from the artists participating in the PV Artist Sale, the Live Auction will include, amongst other items, oil paintings, resin art, sculptures, wearable art, jewelry, and books on learning Spanish.
And remember, all funds raised at the Live Auction, ticket and beverage sales, and a 50/50 contest, means more toys for more kids.
We look forward to greeting you at this important, fun event. And if you want, bring a toy to donate – that's what it's all about.
Tickets are available online HERE.