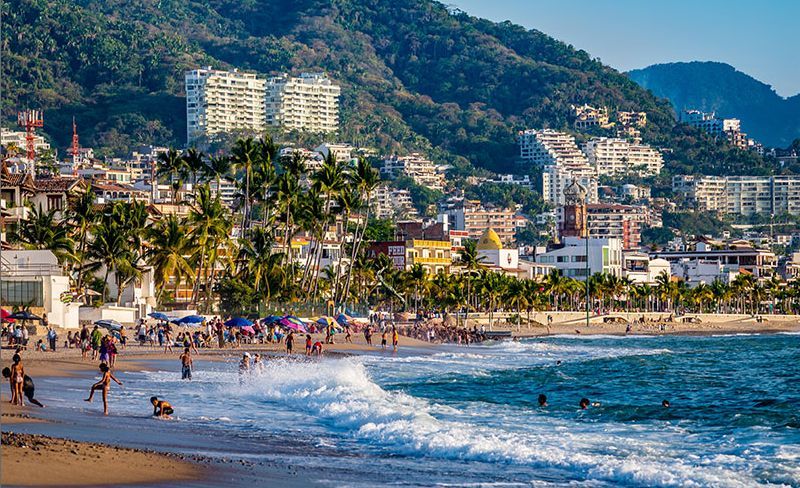 Puerto Vallarta, Mexico – According to projections for the last 2 and a half months of this year, the number of tourists who visit Puerto Vallarta in 2021 could be similar to those of 2019, before the pandemic. This estimate is based on hotel occupancy data and an increase in national and international air operations.
Regarding hotel occupancy, during the months of May, June, July and August of this year, there was an average occupancy of 63%, which means a significant improvement compared to 2020, and almost reaching the 2019 figures. In the absence of data for October, November and December, in which an average occupancy rate of over 75% is expected, annual occupancy would be around 70%, just 2 percentage points below 2019.
However, where a clear upward trend has been marked is in the number of air operations at the Puerto Vallarta International Airport.
Regarding domestic passengers, during July 1,006 operations were carried out almost 3 times more than in July 2020, and 51 more operations than in July 2019. In August, the trend was also positive, with 1,007 operations registered; up from 502 in August 2020 and 932 in August 2019. During September, 750 domestic flights were registered, a figure slightly lower than September 2019, when there were 768.
International flights is where Puerto Vallarta has had an important rebound since, in 7 out of the 9 months registered to date, the number of operations in 2021 exceeded those in 2020 and 2019. It is striking that during the month of August of this year there were 833 international operations, almost 4 times more than in 2020 and almost double than in 2019. The same scenario occurred in September of this year, which had 577 international operations, compared to only 199 in September 2020 and 285 in September 2019.
The recovery of international flights arriving in Puerto Vallarta this year has been so favorable that the number of annual operations in 2020, which were 5,267; and those in 2019, which were 7,345; have already been exceeded – and the October, November and December flights have yet to be counted.
These data show that Puerto Vallarta is recovering, touristically speaking, with great speed and a closing of 2021 is looming with numbers equal to, or higher than, those that Vallarta had before the pandemic began.
Source: Vallarta Independiente