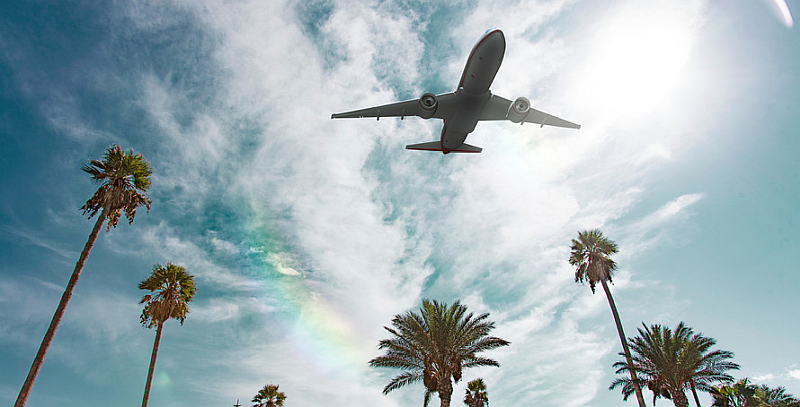 Puerto Vallarta, Mexico – Two new flights will be coming to Puerto Vallarta in June, one operated by Volaris and the other by JetBlue. Volaris will be offering daily flights to and from Guadalajara as of June 1st, and daily flights from Los Angeles on JetBlue will start operating on June 15th.
According to the director of the Puerto Vallarta Tourism Trust, Luis Antonio Villaseñor Nolasco, the PVR international airport welcomed more than 800 flights during the first half of this month (May), and these new routes will reinforce connectivity with the city's priority markets by increasing the number of seats available on a daily basis.
Villaseñor Nolasco went on to say that Volaris' Guadalajara-Puerto Vallarta route will reach regions that do not have many connections, such as Hermosillo, Mexicali, Culiacán and other cities in the northern part of the country, which will increase travel options for tourists who want to have some fun in the sun in this popular beach vacation destination.
"The increase in air connectivity between the Capital city and beach destinations in Jalisco allows us to increase the competitiveness of the State in the tourism sector," said Vanessa Pérez Lamas, the Jalisco Secretary of Tourism.
She said that this flight will help travelers find greater availability in frequencies and seats. "This is how various economic sectors are promoted with the variants of tourism, like family and business trips," the tourism secretary added.
Guadalajara-Puerto Vallarta Flight Schedule
Frequency: daily
Leaving Guadalajara at 12:42 pm, arriving in Puerto Vallarta at 1:38 pm
Leaving Puerto Vallarta at 2:08 pm, arriving in Guadalajara at 3:15 pm
"This new route reinforces our commitment to continue promoting economic, tourist and commercial development in the country, by providing the best alternatives to travel at competitive prices to all travelers who want to meet with their family and friends, or simply travel for pleasure," said Omar Carrera, commercial director of Volaris.
In the case of JetBlue, connectivity will be strengthened with the Los Angeles metropolitan area, which is an important market for Puerto Vallarta. These daily flights will be year-round.
"We're introducing these new flights to expand travel options on the West Coast as part of our broader 2023 growth plans," JetBlue head of revenue and planning Dave Clark said.