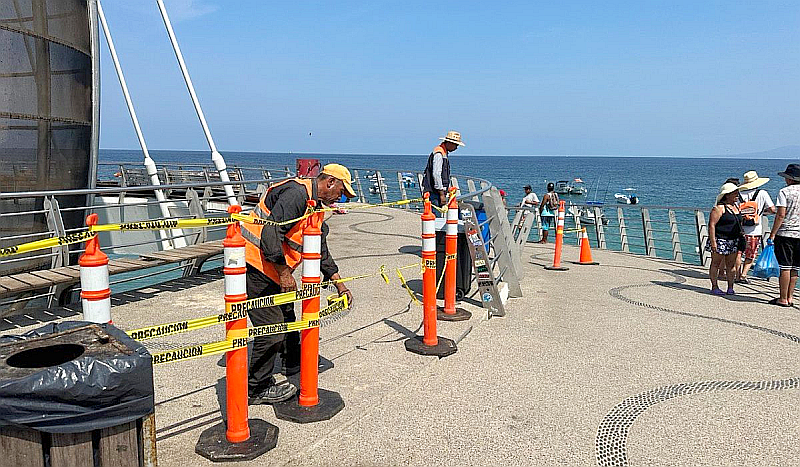 Puerto Vallarta, Jalisco, Mexico – During a recent work tour in Puerto Vallarta, David Miguel Zamora Bueno, the Secretary of Infrastructure and Public Works (SIOP) of Jalisco, examined ongoing construction projects. The focus of his visit was the Boca de Tomatlán pier and the iconic Los Muertos beach pier, both of which he anticipated could be completed by September.
"We began by inspecting the Boca de Tomatlán dock, and I am pleased to say that we have overcome the most challenging phase. It's important to remember that this bay poses significant difficulties due to the waves. However, out of the 21 piles comprising the dock's structure, we have successfully constructed 16. We have nearly completed half of the bridge's slab, and soon we will commence pouring the rest."
Zamora Bueno also addressed the progress made in rehabilitating the Los Muertos pier, which had suffered significant deterioration due to insufficient maintenance. Currently, the concrete structure is being reinforced with carbon fiber, and the steel components are being restored to their original condition. Additionally, the pier is undergoing cathodic protection to ensure its durability.
"As part of the restoration process, we are replacing all the railings, particularly those sections that require extensive refurbishment. The benches, previously made of wood, will be replaced with weather-resistant alternatives. We are also rehabilitating the lighting system and complementing the non-functional lower section. I am confident that both projects will be inaugurated simultaneously at the end of September."
With information from Vallarta Opina