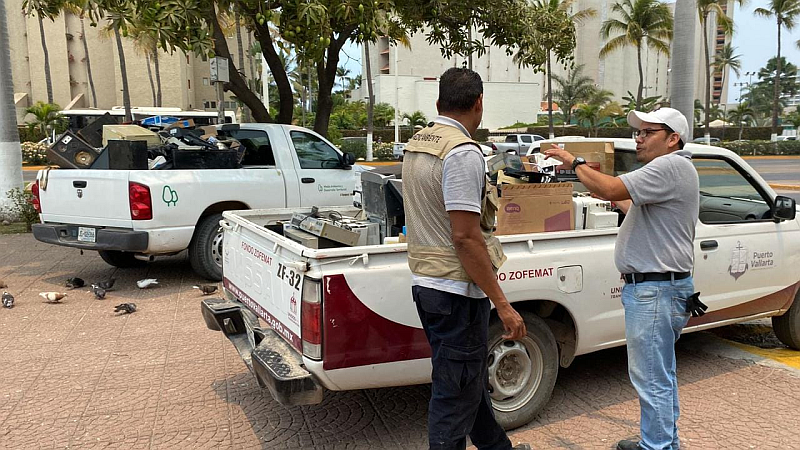 Puerto Vallarta, Jalisco, Mexico – The electronic waste (E-waste) recycling campaign that the Puerto Vallarta Department of Municipal Services held on May 3rd and 4th not only helped help people get rid of all of their old electrical and electronic devices, but also raised citizen's environmental awareness.
An initiative of the Subdirectorate of the Environment of the Puerto Vallarta City Council; the First Collective Campaign was carried out by staff from the Sub-delegation of the Ministry of Environment and Territorial Development (Semadet) and the State Attorney for Environmental Protection (Proepa), along with students from the Arkos University.
Collection points were installed at the Agustín Flores Contreras sports unit, the Environment Sub-directorate offices and the Ixtapa Dome, to make it easier for citizens to dispose of electronic waste. During the 2-day campaign, all of the unused/unwanted electronics and appliances were registered to define their type and weight.
In total, 6,105 pieces were counted, equivalent to 21.5 tons, mostly keyboards, printers, monitors, CPUs, and analog televisions. Approximately 376 Vallartenses participated. In addition, 26 large waste generators were identified, among which schools, restaurants, shopping centers, hotels and other private sector establishments stand out.
The sub-delegation of the Jalisco Ministry of the Environment and Proepa provided personnel and two pick-up trucks, which made several trips to transport the electronic waste to the headquarters of the Puerto Vallarta Environment Sub-directorate.
This campaign also aimed to raise citizen's environmental awareness and encourage them to stop depositing unwanted electronics and appliances in vacant lots, because many of them contain mercury and lead, which can have a profound impact on our environment.
The collected e-waste was sent to a recycling center authorized by the Jalisco Secretary of the Environment, which ensures that it will be properly re-purposed or disposed of.