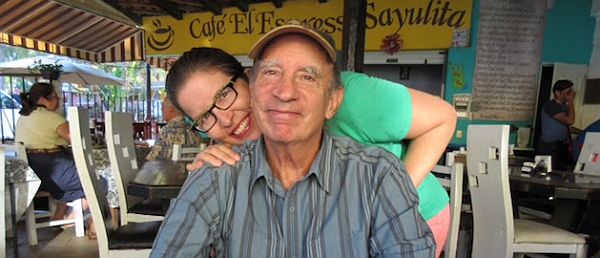 Sayulita, Mexico – When I first saw the artwork Jim Starkey proposed for this year's Pro Sayulita Fiesta poster, I was elated! "Wow!" was my first impression. My second thought was, "How can we ever top this image?" His colorful and energetic painting was unanimously chosen by the fiesta committee for its grand fund raising event on March 16.
Over lunch at River Café, Jim told me about his art background and how he arrived in Sayulita to add his special talent to the vibrant art scene here. The inspiration for his poster illustration came from a colorful Folkloric dance he witnessed a few years ago while in Cancun.
His talent and imagination manifested itself early. His grandparents gave him one of those paint by number kits so popular decades ago. Jim totally disregarded the colors you were supposed to put in the right numbers and came up with a highly original painting, which amused his family.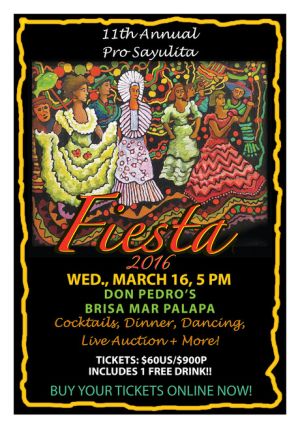 In the sixth grade, the die was cast. He did an art class report on Georges Rouault and was hooked. Rouault (1871-1958) was a French artist known for strong black lines and vivid colors, undoubtedly influenced by his work on the restoration of medieval stained-glass windows, including those of Chartres cathedral. Jim said he was inspired by Rouault's style and started painting in earnest, taking many community art classes. He also attended art classes at the prestigious Art Institute of Chicago.
He received a journalism degree from the U. of Missouri and has been involved in the visual arts all of his life. He worked as a news photographer, photography, editor, and art director for The Grand Rapids Press for thirty-seven years.
Starkey and his wife, Maria Zache, have owned a home in Sayulita for 10 years. He also has a gallery/studio in a lovely 140-year-old historic building in Grand Rapids, Michigan. Maria, a very good journalist and editor, works for the Heritage Hill Association in Grand Rapids, one of the largest historic neighborhoods in the U.S., whose mission is to collectively make that neighborhood a good place in which to live, work and play, much the same as the mission of Pro Sayulita.
The reason why Jim likes the 11 x 14 inch format is that he does a lot of painting while traveling. He is currently showing his works at the Libreria Bookstore in Sayulita and the Casa Magico in San Pancho. His paintings would grace any art collection.
He was very pleased with a recent posting he did of one of his paintings on Facebook. "I read so many nice comments from Mexicans and Americans. It really made my day." A collector of Jim's paintings told Jim that one of his paintings is hung next to an original Picasso! Talk about pride of place!
Jim's poster reminds all of us that the Fiesta is on March 16, the major fundraiser for Pro Sayulita, where all donations go directly to many beneficial services for Sayulita.
Jim's "Fiesta" poster will be on sale soon, both before and during the festival, and the proceeds will benefit Pro Sayulita. It will look great on any wall.
Save the date – March 16, 2016. Purchase your tickets now at the Mercado del Pueblo, La Hamaca, and Don Pedro's. Tickets are also available online HERE in US dollars. The price is $60 US dollars or 900 pesos.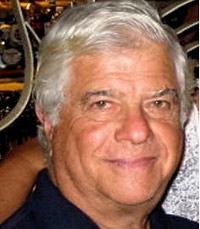 Ed Schwartz and his wife, Bambi, are Mexico-philes from way back, having visited Mexico over 40 times before buying a house in Sayulita in 2007. They spend about half the year in Sayulita and half at their home in Inverness, in West Marin, California. His writings on wine, food and travel have appeared in the SF Chronicle, LA Times and Image magazine.

Click HERE for more articles by Ed Schwartz