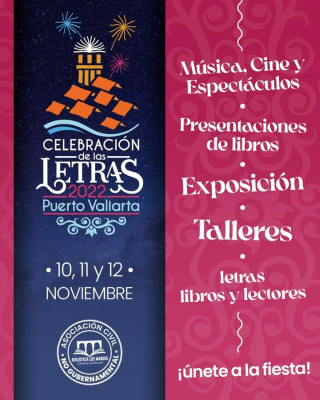 Puerto Vallarta, Mexico – On its 26th anniversary, Puerto Vallarta's Los Mangos Library and Cultural Center invites the entire community to the 2022 Celebration of Letters Festival. Set to take place on November 10, 11 and 12, this is one of the Puerto Vallarta Public Library's most important yearly cultural events.
Now in its Fifth Edition, the Celebración de Las Letras was designed to encourage and promote the reading of books for the enjoyment of all.
This year's Celebración de Las Letras features an extensive program of activities, all with free admission, such as workshops, recitals, informative talks, book presentations, storytelling, film screenings, and shows aimed at children, adolescents and adults.
This year's guest stars are: writer Luis Armenta Malpica, poets Rosalba Espinoza and Sayuri Sánchez, and artists Manchón Moreno and Ariel Sainz.
You won't want to miss the shows on Friday, starring rappers Cesarandearan and Mds Crew (Dosis and Flama), and, on Saturday, shows for children with performances by Luis Delgadillo and the Keliguanes from Guadalajara.
There will also be book sales from different publishers and an area for book exchange, among other activities.
For the complete schedule of activities and more details visit CelebracionDeLasLetras.com.
Make plans now to attend the 2022 Celebración de Las Letras from November 10-12. Admittance is free, but please keep in mind that if you make a purchase or a donation, you will be contributing to a non-profit community organization that brings Value, Inspiration, Training and Opportunities to people of all ages, social conditions and nationalities, in the greater Banderas Bay area.
Biblioteca Los Mangos is located at Av. Francisco Villa 1001, Col Versalles, Puerto Vallarta. For more information, call (322) 224-9966, send an email to info(at)bibliotecalosmangos.org or visit BibliotecaLosMangos.org.